tomorrow digital
Schaeffler's Technology Magazine Now Also Available Online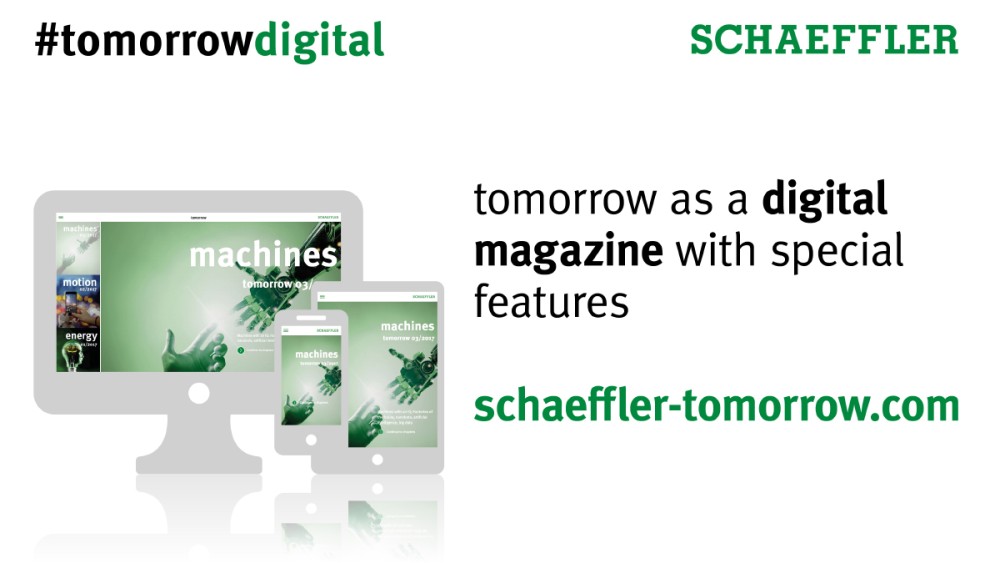 2018-02-09 | Herzogenaurach
Multi-media reading pleasure: Schaeffler is now offering its multiple-award-winning technology magazine "tomorrow" as a digital version as well.
Experiencing technology – with its new digital issue of "tomorrow," Schaeffler's technology magazine, the globally active automotive and industry supplier makes the fascination exuded by innovations and technology even more visible through additional functions.
Technology enthusiasts are just a mouse click away from delving deeply into the world of energy, mobility, machines, digitalization and much more. In innovative style, "tomorrow digital" combines the Schaeffler Group's diversity of topics with an inspiring read and exciting entertainment – an experience to be enjoyed either on desktop PCs, tablets or smartphones. At www.schaeffler-tomorrow.com, readers can find a detailed explanation of the complex subject of the energy chain, stay up to speed about Schaeffler's visions and current developments for modern electric mobility and embark on a multi-media discovery of the inner workings of an aircraft engine. From the start, nearly 100 intriguing technology topics presented in a high-end digital format can be found at www.schaeffler-tomorrow.com.
To enjoy "tomorrow digital" content, readers merely have to enter www.schaeffler-tomorrow.com in their browsers. The online issue of "tomorrow" provides vivid explanations of the complex world of technology featuring interactive graphics, videos and animations. Turning technology into an exciting experience for any reader – this is the DNA of "tomorrow digital."
Publisher: Schaeffler Technologies AG & Co. KG
Country: Germany
Share Page