Repair solution for continuously-variable transmissions
New and available only from Schaeffler for the independent spare parts market – the LuK RepSet CVT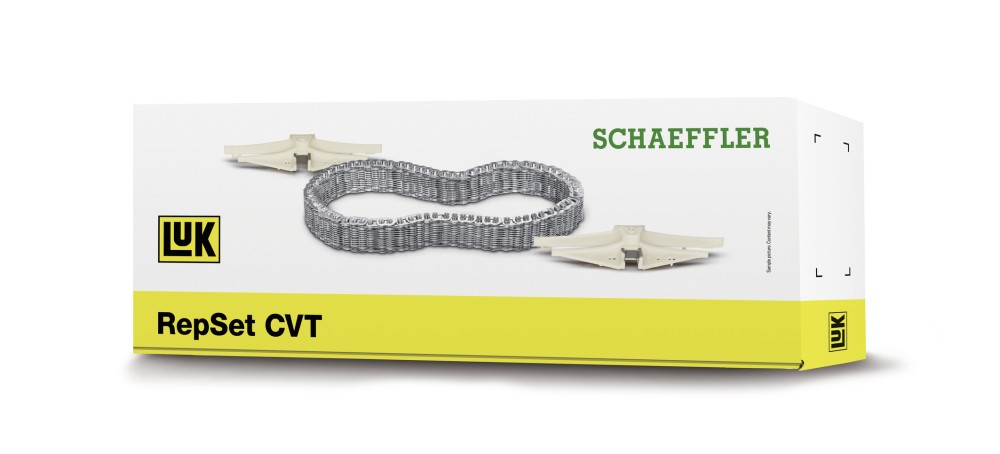 2018-05-02 | Langen
More than ten million manufactured units with increasing production numbers globally – the patented CVT chain from Schaeffler is an innovative product with a promising future demand. The Automotive Aftermarket division of Schaeffler is now offering this product, including a guide rail, as holistic repair solution LuK RepSet CVT. Completing this new portfolio for continuously-variable transmissions (CVT) under the LuK brand are dampers and dual-mass flywheels.
In state-of-the-art, continuously-variable transmissions the CVT chain transmits power from one cone pulley to the other. The CVT chain technology from Schaeffler – thanks to a design optimized down to the last detail – has set the standard when it comes to torque capacity and efficiency. Due to its modular design, it covers the entire torque spectrum, from small cars to upper mid-sized cars. As a repair solution that includes a guide rail, this innovative product from Schaeffler is now available to the Automotive Aftermarket for the very first time.
Initially, the LuK RepSet CVT is available for repairing the so-called Multitronic transmissions of the Volkswagen Group (VW). These fully-automatic CVTs are used in vehicles of the VW brands Audi and Seat, among others. The benefit they offer are the infinitely-variable adaptation of power transmission with no dips in tractive force, which ensures that the engine runs under optimal operating conditions. Schaeffler will be steadily expanding its new repair solution portfolio with applications for the most important manufacturers currently using CVT technologies – including Nissan and Subaru.
And not only this. Schaeffler is also further developing its CVT technology. In 2016, the company introduced a plug-in hybrid concept based on a continuously-variable transmission, for which it won the AutomotiveINNOVATIONS Award. The award was given by the Center of Automotive Management (CAM) and PricewaterhouseCoopers (PwC), which regularly honor the most innovative automobile manufacturers and suppliers of the year. "Experts estimate that just five years from now, 30 percent of all passenger car automatic transmissions will be continuously variable ones. And increasingly more vehicle manufacturers are putting their faith in the CVT chains from Schaeffler," says Rouven Daniel, Head of the Transmission Systems program at Schaeffler Automotive Aftermarket. "Compared to conventional push belts, they are not only able to transmit more power, they deliver higher efficiency as well. So with its LuK brand, Schaeffler has a unique selling point in the market when it comes to the production of high-performance CVT chains. This success story began in 1999, and we are now continuing it on the independent spare parts market."
The Schaeffler online catalog for the Automotive Aftermarket at www.repxpert.com provides more information about this new repair solution.
Publisher: Schaeffler Automotive Aftermarket GmbH & Co. KG
Country: Germany
Share Page