Schaeffler at the Hannover Messe 2018 (Hall 22, Booth D49)
Schaeffler Puts Industry 4.0 into Practice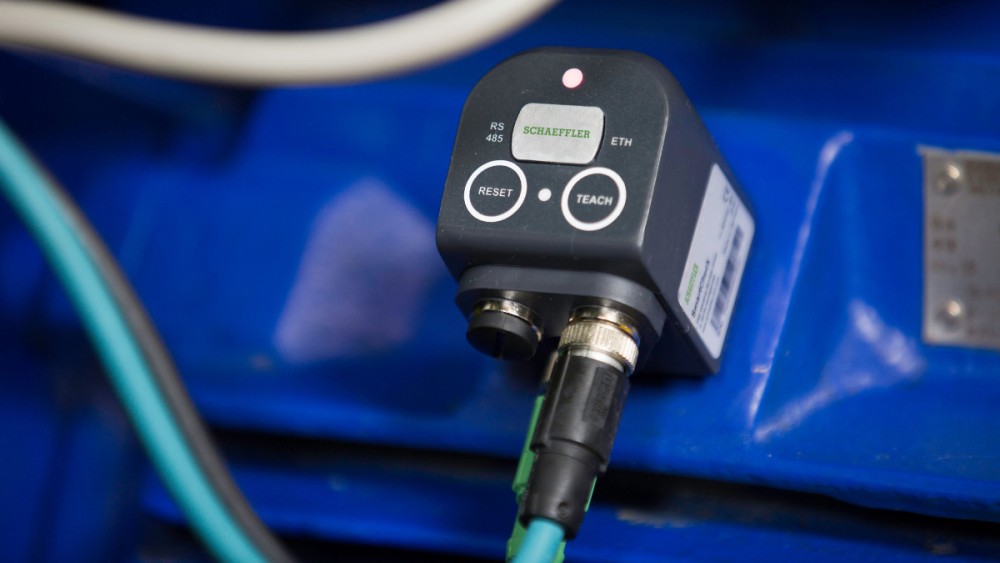 2018-04-13 | Schweinfurt
Specific Industry 4.0 reference projects at the Schaeffler booth in Hanover
Industry 4.0 one of the key initiatives of the "Agenda 4 plus One"
Newly created strategic business sector for Industry 4.0
Sector will be expanded to 300 employees by the end of 2018
Schaeffler has been developing mechatronic components for a wide range of industrial drives for some years. These components are "enablers" for Industry 4.0 because they are equipped with sensor systems, actuators, control units, and software that enable new functions and business models. Schaeffler's Smart EcoSystem provides the IT infrastructure here for the integration of smart components, proven visualization and analysis tools, and services. At this year's Hannover Messe, Schaeffler will be presenting 4.0 solutions based on implemented projects, which are customized to suit the respective applications in drive technology, logistics or communal infrastructure.
A new organizational unit bundles all resources, expertise, and activities from the mechatronic and service business made possible by digitalization. This sector will be expanded to approximately 300 employees during the course of the year and there will be an increase in the number of personnel employed in software development and digital services, in particular. The key tasks of the Industry 4.0 business sector are the new and further development of relevant products and services, sector-specific solution packages, and business models. In future, all Industry 4.0 products and solutions will be provided with Schaeffler branding and consultations services will be provided by a special sales team.
"We find ourselves in a good position because our technological expertise, our understanding of systems, and our expertise in condition monitoring form the basis for the added value of our 4.0 solutions", explains Dr. Stefan Spindler, CEO Industrial. "Through the use of our digital services, our expertise can also be used 'live' during the operation of machines. This means that we are accessing new markets and attracting new customer groups."
The reference projects at Schaeffler's trade show booth in Hanover demonstrate how OEMs, plant operators, and industrial service companies can optimize and increase the value of their products and processes using Schaeffler's mechatronic products and smart services:
Schaeffler ensures reliable operation at a water supply association using a complete solution that comprises both monitoring and lubrication for the machines that are critical to ensuring a secure supply.
In collaboration with a provider of logistics solutions, Schaeffler has implemented an intelligent maintenance system for the operationally critical machinery at its newest logistics center.
A Dutch industrial service company uses the connection to the Schaeffler cloud and the "ConditionAnalyzer" digital service for the maintenance of its customers' machines.
A large gearbox manufacturer uses cloud-to-cloud communication to integrate Schaeffler's bearing expertise into its monitoring and control system.
In addition, Schaeffler will be presenting, for example, monorail guidance systems with sensors for load and requirement-based automated relubrication, and further new and advanced "enablers" for Industry 4.0 applications.
Klaus Rosenfeld, CEO of Schaeffler AG, explains: "'Industry 4.0' represents one of Schaeffler's major opportunities for the future alongside 'E-Mobility'. We have therefore made it one of the key initiatives of our future-oriented program 'Agenda 4 plus One' and created a dedicated 'Industry 4.0' organizational unit at the beginning of 2018. As one of the world's leading automotive and industrial suppliers, we will increase our investment in this sector over the next few years in order to offer our customers innovative products and services – for increased customer benefit, increased sustainability, and increased operative efficiency."
The complete press kit with further information about Schaeffler at the Hannover Messe 2018 (Hall 22, Booth D49) is available to download from the homepage.
Publisher: Schaeffler Technologies AG & Co. KG
Country: Germany
Share Page