Extended Aftermarket compendium from Schaeffler under the LuK brand
LuK spare parts catalog 2018/2019 now includes applications for transmission repair for the first time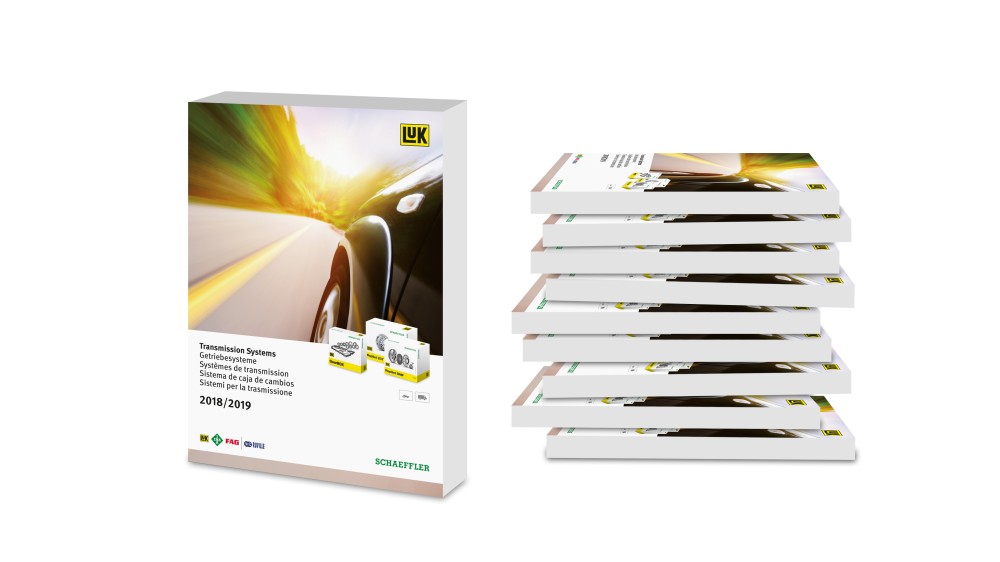 2018-06-12 | Langen
The newest version of the LuK spare parts catalog for passenger cars and light commercial vehicles is now available. In addition to clutches, dual mass flywheels and actuator components, around 900 pages now list additional applications for dry double clutches and, for the first time, transmission repair solutions – like the LuK GearBOX and the LuK RepSet CVT.
The new edition of the Schaeffler spare parts catalog, LuK Transmission Systems 2018/2019, lists over 3,000 different articles for clutch and transmission repair for the vehicle types of over 60 manufacturers. This compendium for vehicles with model years 1998 to 2018, covers over 95 percent of the vehicle fleet in Western Europe.
Newly added are additional applications for the LuK RepSet 2CT. Schaeffler now offers this repair solution for the dry double clutches from Alfa Romeo, Fiat, Hyundai, Kia, and Renault as well. And not only that. The spare parts catalog now also contains transmission repair solutions for the first time. These include the LuK GearBOX – the complete solution for manual and double-clutch transmissions and rear-axle differentials – and the LuK RepSet CVT for repairing continuously-variable automatic transmissions.
Its clear organization and logical catalog structure mean that distribution partners and garage employees can quickly find the spare parts and repair solutions they need. Vehicle type, model year, and article group – including vehicle-specific versions – are simple to identify thanks to its non-verbal structure and use of easy-to-understand symbols. Like always, all information in the catalog is in five languages – German, English, French, Italian, and Spanish.
Garages can obtain the spare parts catalog LuK Transmission Systems 2018/2019 for passenger cars and light commercial vehicles from the trading partners of Schaeffler's Automotive Aftermarket division. Supplementary information – like articles for vehicles with older model years, and the complete portfolio of Schaeffler for the Automotive Aftermarket – is available in the online catalog at the garage portal REPXPERT, www.repxpert.com.
Publisher: Schaeffler Automotive Aftermarket GmbH & Co. KG
Country: Germany
Share Page