DTM Budapest
Schaeffler Brand Ambassador Rockenfeller to Race in Hungary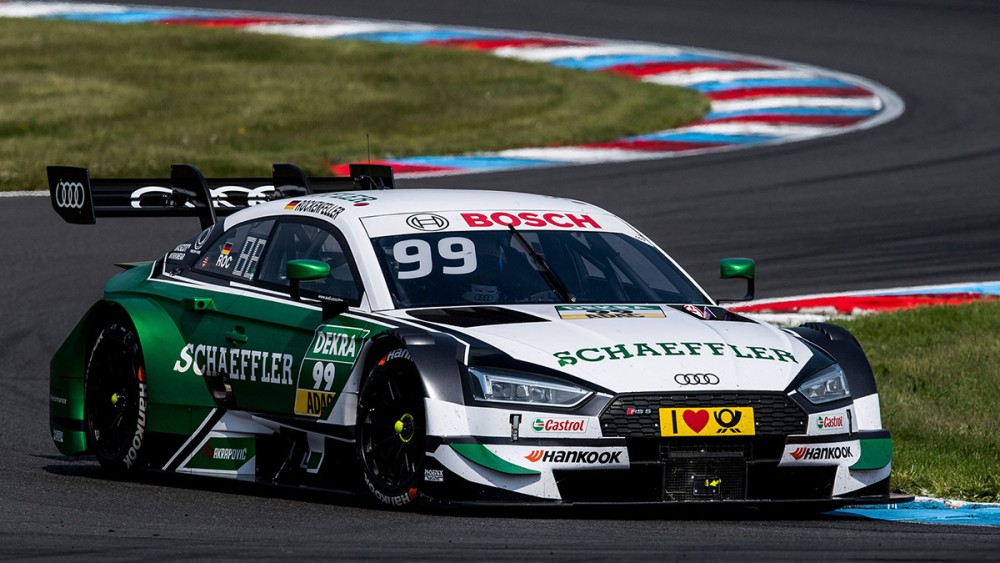 2018-05-30 | Herzogenaurach
After two events in Germany, the DTM campaign is traveling to its first foreign round next weekend (June 2 to 3). At the Hungaroring near Budapest, Schaeffler driver Mike Rockenfeller has previously scored good results.
Gripping races with many overtaking maneuvers and impressive fightbacks – the 2018 DTM is delivering on its promise right at the beginning of the season. Mike Rockenfeller is a top-caliber racer and eye-catcher. In his Schaeffler Audi RS 5 DTM sporting a new green-white livery, the 2013 champion has made up a total of 14 positions in the four races held to date, his second place on the opening weekend at Hockenheim having been a major highlight.
In Hungary, races five and six in a total of 20 are on the agenda. The 4.381-kilometer Hungaroring is located about a half hour's drive north-east of the capital, Budapest, and experienced its DTM debut as far back as in 1988, still in the days of the Iron Curtain. Following a long break, the circuit did not celebrate its DTM comeback until 2014. The Hungaroring is a challenging track with fast turns and many directional changes. Due to the fact that the tarmac is still new, the race cars have good grip. Having placed fourth twice in five races to date, Mike Rockenfeller missed the podium by a very narrow margin.
Schaeffler has two plants and a sales office in Hungary. The plant in Szombathely celebrated its 20th anniversary last year. Since the DTM's return to Hungary, several hundred local Schaeffler employees have been cheering for Mike Rockenfeller along the track every year.
Long DTM tradition
Even in the DTM's initial years, Schaeffler and its product brands supported drivers and teams with know-how in motorsport and technology. Since 2011 the technology group has been giving its name to the Schaeffler Audi and celebrated major successes including two title wins. In the DTM, cars with internal combustion engines have traditionally been used. This is a field in which Schaeffler makes an important contribution as well with innovative technologies and products to make IC engines efficient and fit for mobility for tomorrow.

Info material
Publisher: Schaeffler Technologies AG & Co. KG
Country: Germany
Share Page