Schaeffler at the InnoTrans 2018 (Hall 21, Booth 404)
Schaeffler Introduces GS1-Standard Data Matrix Codes and a 100% Rate of Return for Reconditioned Axlebox Bearings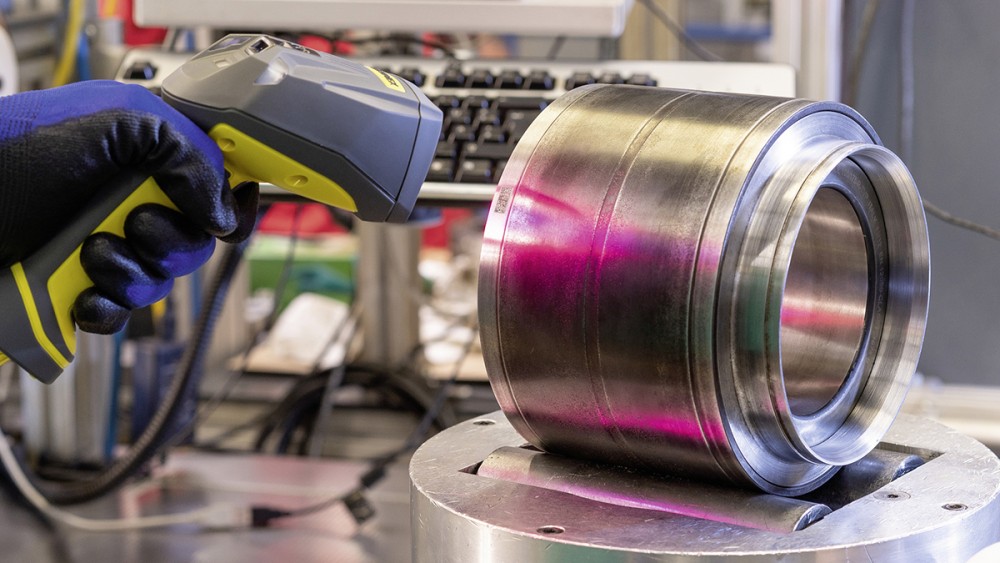 2018-09-18 | BERLIN/SCHWEINFURT
The serialized marking of axlebox bearings according to the GS1 standard is currently becoming the standard within the sector. Schaeffler too has made the relevant adjustments to its reconditioning processes and now offers GS1-standard data matrix code marking on both new and reconditioned bearings. At the same time, Schaeffler is also introducing a 100% rate of return for reconditioned axlebox bearings.
Safety is the highest priority when it comes to rail transport – both in operation and in maintenance. The 100% traceability of all safety-relevant components is therefore becoming increasingly important for the railway sector, and this particularly applies to the maintenance processes involved. This requires unambiguous and globally valid component identification, which in the field of railway technology is being achieved more and more frequently through component marking according to the GS1 standard (the global trade item number) in combination with serialized component numbers. These numbers are stored together with additional identifiers as a machine-readable data matrix code.
Digital bearing records mean transparency across companies
The serialized marking of axlebox bearings according to the GS1 standard via data matrix codes (DMCs) not only offers 100% traceability but also makes it possible to exchange data across companies and makes information available about every individual axlebox bearing and its reconditioning. The link that can now be made between bearings' history and condition data and their operating data (distance covered, route profile, hot running notifications, etc.) will in future provide a significantly better understanding of the relationship between bearings' operating conditions and operating life.
Highly robust laser engraving
While data matrix codes are usually lasered into the bearing material, Schaeffler uses a type of laser engraving that goes several microns into the material and thus ensures that the DMC remains legible at all times and can be scanned without any problems even after a long period of operation under harsh operating conditions.
100% rate of return for axlebox bearings
More and more operators and maintenance engineers no longer want to keep additional axlebox bearing stocks for when replacements become necessary. From October 2018 onwards, Schaeffler will be relieving them of this task and offering a 100% rate of return for reconditioned axlebox bearings. In the first step, the defective bearings will be repaired using new bearing components or replaced by new bearings. Subject to contractual agreement with the customers, this service will then be phased out in the second step in favor of a replacement program of used and reconditioned bearings that are kept on stock. This will dramatically reduce delivery times and help to perceptibly shorten maintenance throughput times as well. The DMC also plays a central role here – after all, unambiguous component identification is indispensable if seamless traceability of bearings' history and condition across company boundaries is to be ensured.
Publisher: Schaeffler Technologies AG & Co. KG
Country: Germany
Share Page