Duale Studenten von Schaeffler schließen Studium ausgezeichnet ab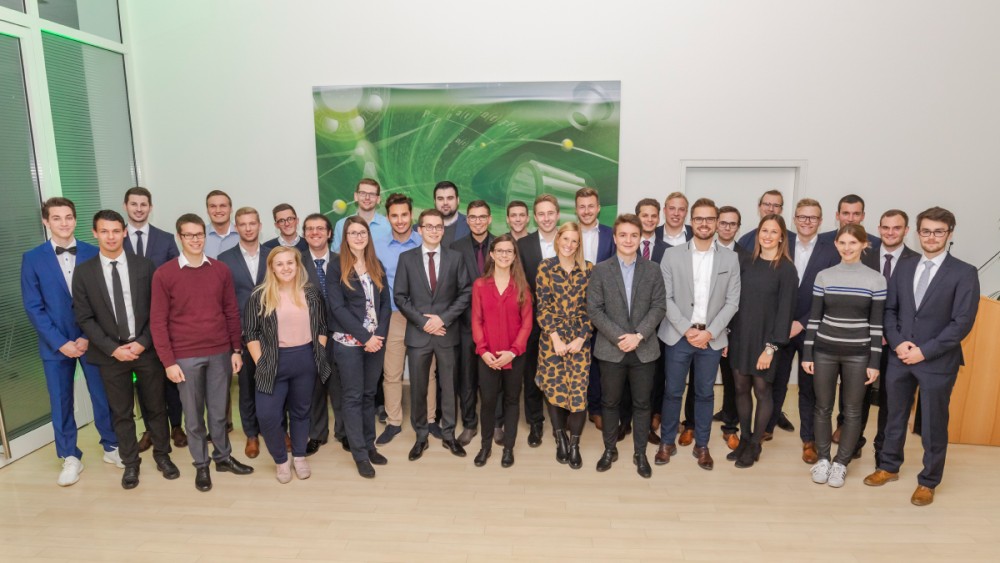 2018-12-18 | Herzogenaurach
36 Absolventen feiern erfolgreichen Abschluss, teils als Jahrgangsbeste
Schaeffler übernimmt Nachwuchskräfte
Bewerbungen für duale Studiengänge jederzeit möglich
Insgesamt 36 Absolventinnen und Absolventen des dualen Studiums haben ihre Zeugnisse für den Abschluss im Jahr 2018 erhalten. Die Nachwuchskräfte der Schaeffler-Standorte Herzogenaurach, Hirschaid und Höchstadt wurden im Rahmen einer feierlichen Veranstaltung geehrt.
Paul Seren, Ausbildungsleiter Deutschland bei Schaeffler, beglückwünschte die ehemaligen Studierenden: "Sie haben das Fundament für Ihre weitere berufliche Entwicklung gelegt. Ich bin überzeugt, dass Sie gut vorbereitet und qualifiziert sind, um die permanenten Veränderungen und die Mobilität für morgen aktiv mitgestalten zu können."
Hervorragende Leistungen
Die hohe Motivation der Studierenden und die individuelle Betreuung durch die Ausbilder von Schaeffler während der dreijährigen Studienzeit, in der sich Theorie an der Hochschule und Praxis im Unternehmen abwechseln, zeigen sich in den Ergebnissen. Die Bachelorabsolventen erreichten einen Noten-Durchschnitt von 1,96. Besonders hervorzuheben sind dabei die Leistungen von Andreas Götz und Philipp Kernstock: Sie wurden zuvor schon bei der "Night of the Graduates" an der Dualen Hochschule Baden-Württemberg in Mannheim unter 1.800 Studenten für die beste Bachelorarbeit und das beste Studienergebnis geehrt. Begeisterten Beifall ernteten die Masteranden, deren Schnitt bei sehr guten 1,18 lag. Herausragend dabei Alexander Schnotz mit einem Prüfungsgesamtergebnis von 1,0 mit Auszeichnung. Der Frauen-Anteil in den überwiegend technischen Studiengängen betrug rund 25 Prozent.
Attraktiver Arbeitgeber
Auch die ehemaligen Studierenden blickten während der Feier zurück. "Wir danken den Fachabteilungen, die uns während des Studiums unterstützt haben und tiefe Einblicke in die Praxis gaben", sagte Marc Pöhlmann stellvertretend für seine Mitstudierenden. Während des Studiums konnten sie in den Praxisphasen ein Netzwerk aufbauen und teilweise in Auslandspraktika weitere wertvolle Erfahrungen sammeln. Fast alle der ehemaligen Dualen Studenten sind inzwischen bei Schaeffler angestellt. Deutschlandweit ermöglicht Schaeffler an 22 Standorten Ausbildung auf höchstem Niveau. Das Technologieunternehmen bietet neben zwölf unterschiedlichen dualen Studiengängen auch die Ausbildung zu 18 gewerblich-technischen oder kaufmännischen Berufen an. Für den Studienstart im September 2019 sind noch vereinzelte Plätze frei. Weitere Informationen und Bewerbungen online unter:
www.ausbildung-bei-schaeffler.de
Publisher: Schaeffler AG
Country: Germany
Share Page