NEXUS Automotive International zeichnet Schaeffler als Lieferant des Jahres aus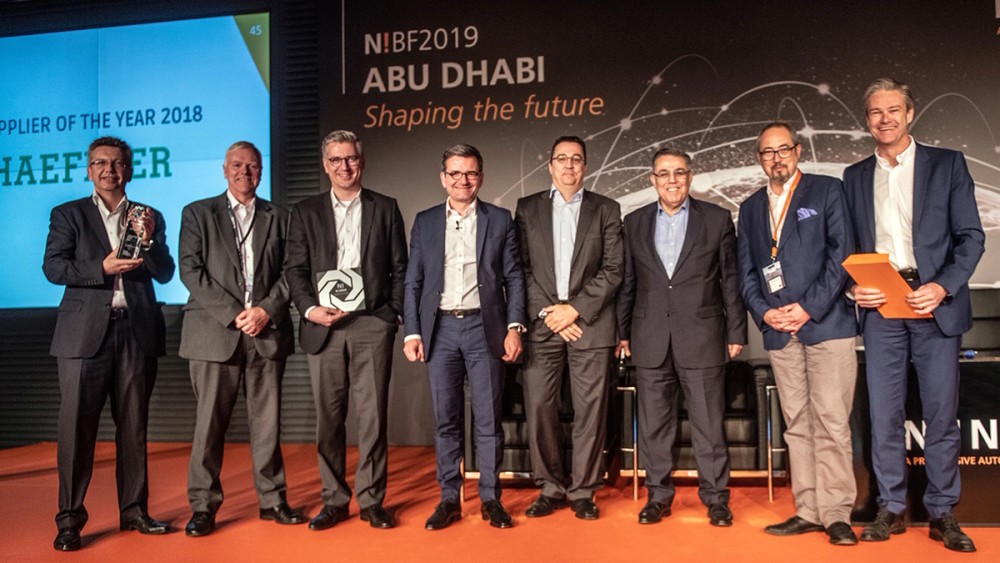 2019-03-08 | Langen/Abu Dhabi
Wertschätzung für fünfjährige Zusammenarbeit
Automotive Aftermarket von Schaeffler ist Partner "der ersten Stunde"
Preisverleihung auf dem NEXUS Business Forum in Abu Dhabi
NEXUS Automotive International, ein globaler Zusammenschluss führender Teilehändler im Automotive Aftermarket, hat Schaeffler zu seinem Lieferanten des Jahres gekürt. Die Verleihung des Awards "Supplier of the Year" fand im Rahmen des NEXUS Business Forums am 5. März 2019 in Abu Dhabi, Vereinigte Arabische Emirate, statt. Als global tätige Handelskooperation würdigt NEXUS damit die erfolgreiche und vertrauensvolle Zusammenarbeit mit der Schaeffler-Sparte Automotive Aftermarket, die seit der Gründung der Handelskooperation vor fünf Jahren besteht.
Michael Söding, Vorstand Automotive Aftermarket, Schaeffler AG, und das Management-Team von Schaeffler Automotive Aftermarket nahmen den Award von NEXUS entgegen. "Jahr für Jahr verfolgen wir, wie NEXUS dank globaler Aufstellung und Zukunftsorientierung dynamisch wächst. Mittlerweile verfügt NEXUS über regionale Teams auf allen Kontinenten, speziell auch in Schwellenländern. Wir sind stolz, als Partner der ersten Stunde, Teil dieser Erfolgsgeschichte zu sein", betont Michael Söding. "Die Auszeichnung zum Lieferanten des Jahres freut uns sehr. Vor allem aber spornt sie uns an, die Zusammenarbeit weiter auszubauen und gemeinsam potenzielle Geschäftsfelder zu erschließen."
Die internationale Handelskooperation NEXUS Automotive International mit Sitz im schweizerischen Genf wurde 2014 gegründet. Weltweit erzielte das Unternehmen im vergangenen Jahr 18 Milliarden Euro Umsatz. Aktuell verfügt NEXUS über 135 Gesellschafter und Mitglieder, die für über 1.500 Firmen in 128 Ländern auf fünf Kontinenten stehen. Während seines Business Forums am 5. März 2019 in Abu Dhabi feierte das Unternehmen sein fünfjähriges Bestehen.
Publisher: Schaeffler Automotive Aftermarket GmbH & Co. KG
Country: Germany
Share Page