Schaeffler is all set for the 2019 DTM season
The Schaeffler BMW M4 DTM is ready for its debut season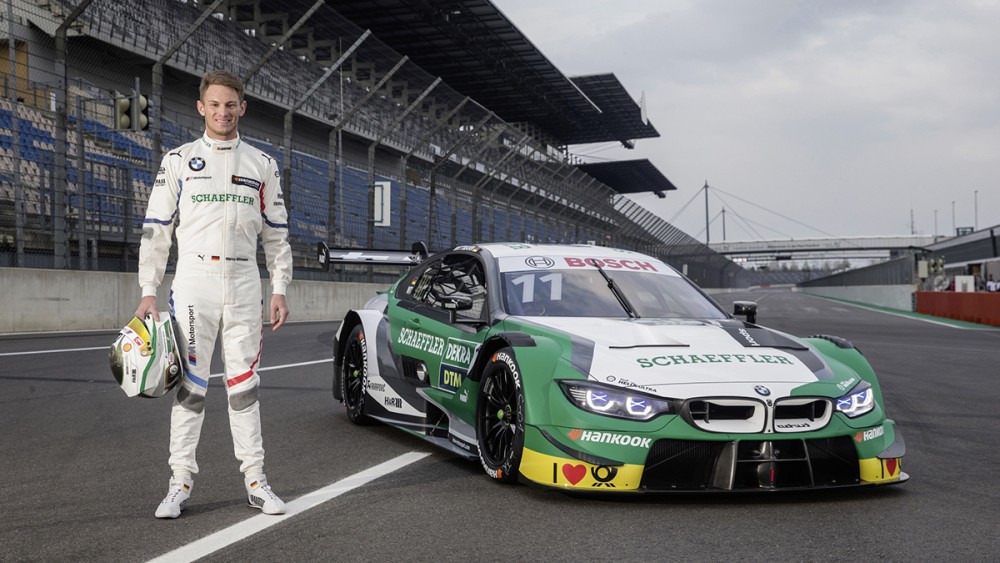 2019-05-02 | Herzogenaurach
The first DTM race for the premium partnership between BMW M Motorsport and Schaeffler is approaching
Schaeffler driver and BMW works driver Marco Wittmann intends to be in the running for the title
New technical regulations ensure more power and higher speeds while promising even more spectacular races
Schaeffler is set for a major debut: For the first time, the automotive and industrial supplier will be starting the DTM season as a premium partner to BMW M Motorsport. The Schaeffler BMW M4 DTM car in its striking green-and-white colors will be driven by Marco Wittmann.
Matthias Zink, CEO Automotive OEM at Schaeffler, had this to say: "Our partnership with BMW M Motorsport has been set up for the long term, and we will be broadening Schaeffler's involvement in motorsport even further in the future. In our partnership with BMW, we want to start writing a new and successful chapter in our DTM history and work even more closely together than ever before. I am particularly delighted that we now have Marco Wittman on board as Schaeffler's driver. As well as being a two-time DTM champion, he also comes from the same region as Schaeffler. That is a perfect combination."
The partnership between Schaeffler and BMW M Motorsport will be making its racing debut at the Hockenheimring. The season's first open training session will be held at the 4.574 km track on Friday, May 3, followed by the races themselves on Saturday, May 4 and Sunday, May 5.
Marco Wittmann: "I am aiming high."
Schaeffler driver and BMW works driver Marco Wittmann also shared his thoughts: "I am thrilled to be starting the new season with a new partner like Schaeffler. I am aiming high: Since I have already won the title twice before, my objective is of course to be among the leaders, to be in the running for the title, and to take it myself if I can. That is not to say that caution is not advisable at the start of the season, however – after all, the changes that have been made to the regulations mean the biggest shakeup we have seen in the last few years."
The Schaeffler BMW M4 DTM – a 600-plus horsepower race car designed according to the Class 1 regulations and powered by a two-liter R4 turbo engine – is indeed from a new generation of vehicles. Combined with the low weight of the vehicle, the new "push-to-pass" function (which provides a brief power boost to make overtaking easier), and the revised aerodynamics, this promises speeds of 300 km/h and even more spectacular races. At the same time, the car's fuel consumption will be lower than that of last year's model – a development that Schaeffler too is actively working to promote through optimization of the internal combustion engine.
18 races in five nations
The 2019 DTM season will comprise 18 races held over nine weekends. The DTM will make stops in five different nations during the season before returning to Hockenheim for the grand finale on October 5 and 6. Marco Wittmann is looking forward to one race weekend in particular: "The race at Franconia's Norisring will be a double homecoming for Schaeffler and myself, and I can't wait. I was able to win there last year, which of course was a real highlight for me. I hope to see as many fans as possible cheering for us at the track."
Fans of BMW M Motorsport and Schaeffler will have their first opportunity to do just that this coming weekend at the Hockenheimring.
Publisher: Schaeffler AG
Country: Germany
Share Page