New plant in Vietnam: Schaeffler invests 45 million euros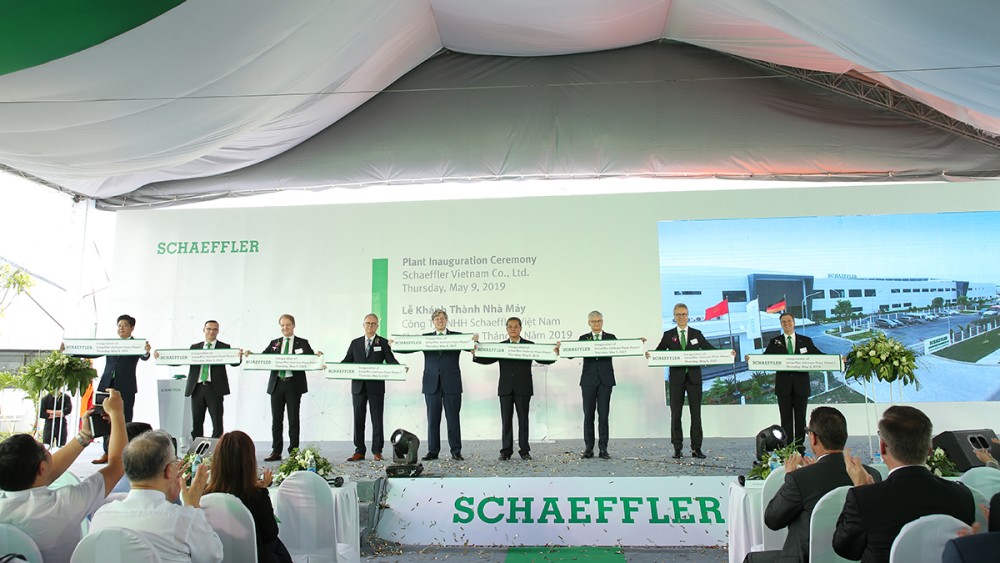 2019-05-10 | Herzogenaurach/Bien Hoa, Vietnam
300 new jobs created
First section opened with an area of 25,000 square meters
State-of-the-art plant supplies customers in Asia and around the world
Schaeffler celebrated the opening of its new plant in Bien Hoa, Vietnam. The automotive and industrial supplier invested over 45 million euros in the construction of this new production plant. The company will create around 300 new jobs here by the end of the year. High-ranking representatives from politics and business as well as customers and partners participated in the ceremony to mark the plant's inauguration.
Georg F. W. Schaeffler, shareholder and Chairman of the Supervisory Board of Schaeffler AG, said in his opening speech: "Vietnam was Schaeffler's first manufacturing location in Southeast Asia more than eleven years ago. There are many reasons for our continued commitment in Vietnam. Its favorable strategic location in Asia, well-diversified, stable, and fast-growing economy, and its young, well-educated, and ambitious population are just a few examples."
Confidence in Vietnam's potential
"The expansion of local manufacturing capacities demonstrates our confidence in Vietnam as an ideal production hub in the Asia Pacific region to supply regional and global customers with best-in-class bearing products and systems. This new plant will become one of the best-performing and most modern production facilities in our global network", said Andreas Schick, Chief Operating Officer of Schaeffler AG.
The new plant is located in the Amata industrial park in Bien Hoa, about 50 kilometers from Ho Chi Minh City, in the south of the country and will replace the old factory. Industrial bearings and components for a wide range of applications will be produced there. Schaeffler is increasing its capacities for its existing product portfolio and is developing new product lines, including radial insert bearings and needle roller bearings.
Products made in Asia for customers worldwide
The new plant in Vietnam has been developed based on a modular concept and further expansions are planned over the next few years. The plant currently covers an area of around 25,000 square meters. "In addition to our production facilities in Korea, we opened a new plant for automotive products in Thailand in 2016 and today we are proud to celebrate the opening of this state-of-the-art facility for products from our Industrial division in Vietnam," said Dr. Stefan Spindler, CEO Industrial at Schaeffler. Products manufactured in Vietnam will be supplied to customers across various industrial sectors including agriculture, construction and mining, power transmission, food processing, textile, paper, steel, cement and motorcycles.
Application of Industry 4.0 solutions developed in-house
The new plant is equipped with state-of-the-art production machinery and technologies and, in addition, it is the first plant in Southeast Asia that uses the latest Industry 4.0 solutions to have been developed in-house at Schaeffler. 70 Schaeffler SmartCheck condition monitoring systems have been installed at key positions inside the plant. With these compact measuring devices, both Schaeffler and its customers can optimize manufacturing processes, prolong maintenance intervals, reduce downtimes, and thus reduce lifecycle costs for machines and equipment.
Publisher: Schaeffler AG
Country: Germany
Share Page