Evolution in knowledge transfer
Schaeffler takes technical training to a new level with expanded training and cooperative efforts with partners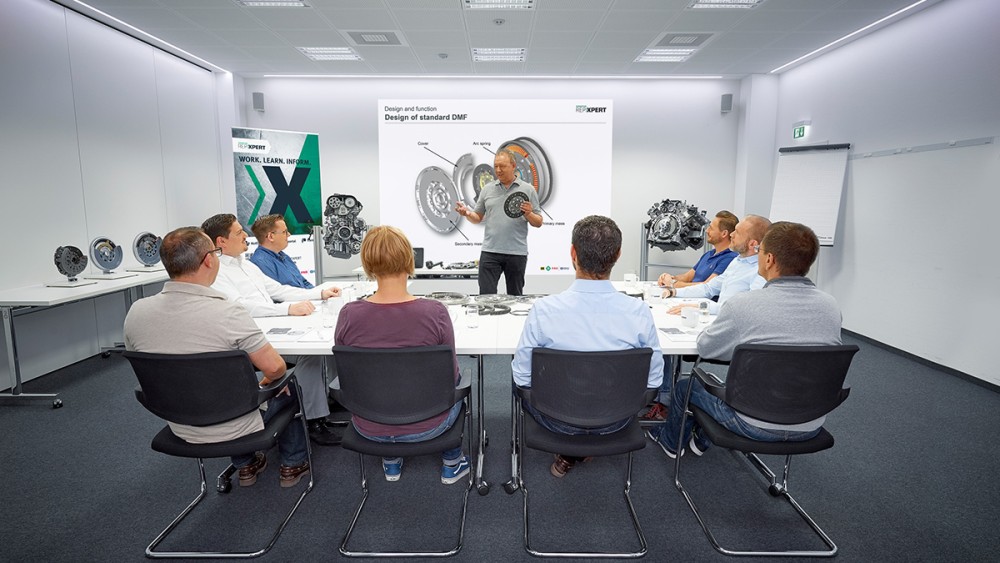 2019-05-29 | Langen
Expanded training program from the Automotive Aftermarket division under the REPXPERT service brand
Collaboration with partners like MAHLE Aftermarket und BILSTEIN mean added value for garages
REPXPERT training truck underway across Europe
Demands on garages are increasing at many levels today as vehicle technology gets more complex, and digitalization and requirements for efficient repair increase. Technical training plays an increasingly important role in supporting garage professionals in dealing with these challenges. Because of this, Schaeffler's Automotive Aftermarket division has significantly expanded its training program under the REPXPERT service brand. It has also enhanced training content in a sensible way through cooperative efforts with its partners MAHLE Aftermarket and BILSTEIN. Efforts towards even more garage proximity continue as well. The REPXPERT truck, which is Schaeffler's first mobile training center, has completed its pilot phase in Poland successfully and is now underway throughout Europe.
Cross-brand expansion
The Aftermarket specialists have expanded their training program for the three vehicle systems of transmission, engine and chassis. Due to growing demand and increasingly complex content, Schaeffler now offers training seminars for the product segments timing chain and double clutch systems, each lasting an entire day. In addition, the company has revamped its technical training for the engine segment as well: There is now a single training module on belt drive components in the timing drive and front end auxiliary drive (FEAD). Timing chain drive and valve train components are also now together in a single training unit, as are water pumps and the thermal management module. REPXPERT training for the chassis has also seen enormous expansion. Now part of this training portfolio are wheel bearings and wheel modules for passenger cars and commercial vehicles, as well as steering and suspension parts.
All-day training with partner companies
And that's not all. Together with MAHLE Aftermarket and BILSTEIN, the Automotive Aftermarket division of Schaeffler now offers three separate, day-long training seminars. These bundle the expertise of these partners in a sensible way to create added value for participating garages. For instance, the training module with the solutions provider MAHLE Aftermarket combines the subjects of double clutch technology, transmission flushing and diagnosis in a logical way. There is also an entire training module dedicated to the engine called "Timing Chains, Valves, Pistons – from Error Codes to Operational Principles." The training module with the experts from BILSTEIN combines the subjects of steering and suspension parts, vibration dampers and adjustable suspensions, into a comprehensive whole. All of these combined training seminars are currently being offered in Germany by Schaeffler and its partners. Seminars will follow in other regions in a step-by-step rollout.
"In the conception of our technical training seminars, we always pay special attention to what topics are important to garages. Through things like our service hotline and our dense distribution network, we are in a permanent exchange of information with garages, which allows us to offer them comprehensive and tailor-made modules. Alone last year, over 55,000 people took part in one of our technical training seminars worldwide," said Sven Olev Müller, Director Schaeffler REPXPERT, Schaeffler Automotive Aftermarket GmbH & Co. KG. "And the collaboration with our partners MAHLE Aftermarket and BILSTEIN also resulted from the need to bundle our training in a sensible way."
The first mobile training center
The Aftermarket specialists from Schaeffler are intensifying personal contacts to garages, to ensure efficient knowledge transfer. Last year, the company already had its first mobile training center on wheels with the REPXPERT truck, in order to give advanced training to Polish garages even in isolated areas. This was so successful, with a lot of positive feedback, that the REPXPERT truck is now traveling the roads of Europe. "Our technical trainers don't just pack an abundance of expert knowledge when head out on the road – they also bring a very special training experience with them," said Sven Olev Müller.
Registered users of the REPXPERT online portal at www.repxpert.com will find an overview of the training program and additional information about the content of the seminars.
Publisher: Schaeffler Automotive Aftermarket GmbH & Co. KG
Country: Germany
Share Page