A trusting partnership lasting a quarter century
Several awards for Schaeffler Automotive Aftermarket – TEMOT International honors long-standing partnership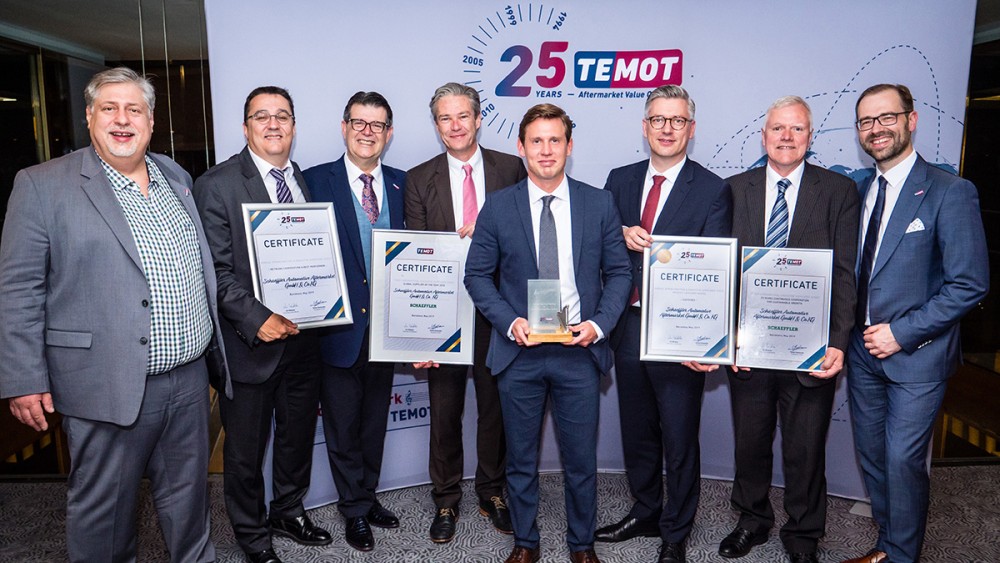 2019-05-22 | LANGEN/BARCELONA
Global trading group, TEMOT International, celebrates 25th anniversary
Schaeffler's Automotive Aftermarket has been a partner since day one
A total of four awards given to Schaeffler, including the prize for "Global Supplier of the Year 2018
On the occasion of its 25th anniversary, TEMOT International honored the Automotive Aftermarket division of Schaeffler for its trusting cooperation, which has been maintained in a spirit of partnership since the international trading group was founded. And that's not all. At its Executive Suppliers' Event in Barcelona, Spain, TEMOT International also awarded the Schaeffler division three additional prizes.
"A quarter century of close, trusting collaboration is by no means a given," said Michael Söding, CEO Automotive Aftermarket, Schaeffler AG. "Together with TEMOT we helped our industry change, and we have both grown along the way. There are definitely a lot of surprises and major challenges awaiting us in the future. To know that TEMOT is at our side, gives us confidence that we will master this transformation together."
In addition to honoring this long-standing partnership, TEMOT International also crowned Schaeffler's Automotive Aftermarket division its "Global Supplier of the Year 2018." Schaeffler also impressed with its clutch program and took home TEMOT's "Product Category Award" as well. And last but not least, TEMOT International gave Schaeffler its "Special Aftermarket Contribution Award" that honors accomplishments in the areas of "Network Cooperation, Business Development and Best Management".
For the 25th anniversary celebration, the Aftermarket specialists from Schaeffler brought along a special gift for TEMOT International. Michael Söding presented Fotios Katsardis, President and CEO of TEMOT International, a sculpture of over 2 meters high from the German artist Lothar Krebs. All the elements of the sculpture represent the history of the international trading group and create a bridge to the products of Schaeffler's Automotive Aftermarket division.
TEMOT International is one of the world's leading trading groups, whose shareholders represent total sales of around ten billion euros. Headquartered in Ratingen, Germany, the group is made up of Europe's leading automotive parts distributors. Its nearly 80 shareholders are active in 87 countries around the world.
Publisher: Schaeffler Automotive Aftermarket GmbH & Co. KG
Country: Germany
Share Page