Nachwuchswissenschaftler mit Innovation Award der Schaeffler FAG Stiftung ausgezeichnet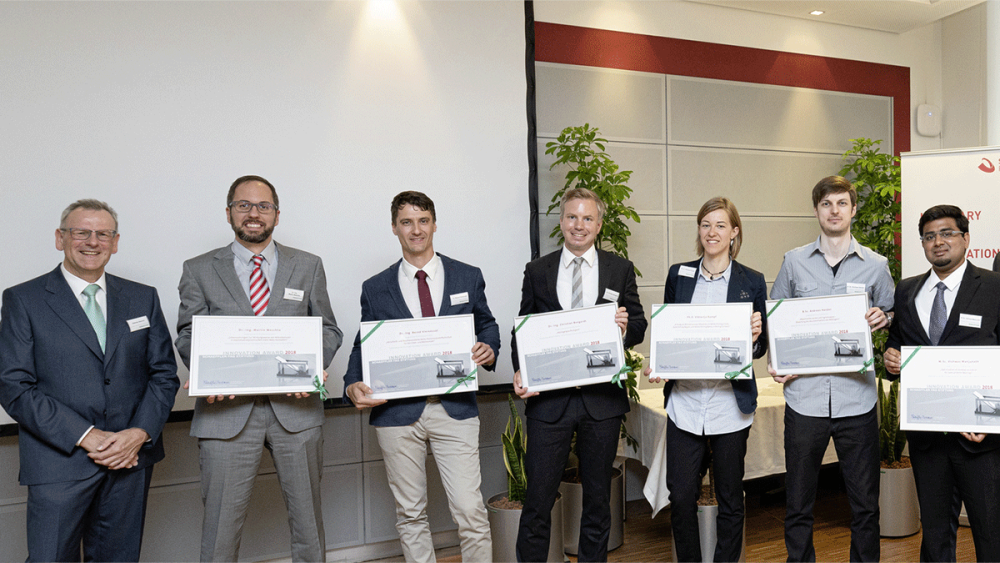 2019-07-05 | Schweinfurt
Herausragende Arbeiten auf dem Gebiet der Lagerungstechnik prämiert
Schaeffler FAG Stiftung als Motor für Wissenstransfer
Stiftung fördert seit über 35 Jahren Wissenschaft, Forschung und Lehre an Schulen, Hochschulen und Universitäten auf dem Gebiet der Lagerungstechnik
Für ihre zukunftsweisenden und Maßstäbe setzenden Arbeiten hat die Schaeffler FAG Stiftung sechs Nachwuchswissenschaftler mit dem Innovation Award 2018 ausgezeichnet. Der Preis wurde verliehen in den Kategorien "Promotion" sowie "Bachelor- und Masterarbeiten". In einer Feierstunde in Schweinfurt überreichten Dietmar Heinrich, Vorstand Finanzen und Mitglied des Stiftungsvorstandes, Dr. Josef Scheller, Leiter Supply Chain Management Interfaces und Geschäftsführer der Stiftung sowie Andreas Hamann, Leiter Personal Europa und Vorsitzender des Stiftungsvorstands, die Auszeichnungen an die nationalen wie internationalen Preisträger: Ph.D. Viktorija Rumpf, Dr.-Ing. Christian Bongardt, Dr.-Ing. Martin Weschta, Dr.-Ing. Bernd Vierneusel, B.Sc. Andreas Handel und M.Sc. Vishwas Manjunath.
Schaeffler FAG Stiftung als Motor für Wissenstransfer
"Die Stiftung ist Motor für Wissen, Wissenstransfer und die Entwicklung von Potenzialen. Sie ist ein Ausdruck von unternehmerischer und gesellschaftlicher Verantwortung. Gefördert werden Wissenschaft, Forschung und Lehre an Hochschulen und Universitäten auf dem Gebiet der Lagerungstechnik", erläuterte Andreas Hamann den Zweck der Stiftung. Seit ihrer Gründung im Jahr 1983 hat die Schaeffler FAG Stiftung mehr als eine Million Euro an Fördergeldern ausgeschüttet. Diesmal war der Innovation Award mit insgesamt 23.000 Euro dotiert.
"Innovationen sind Investitionen in die Zukunft!"
In seiner Festansprache setzte sich Dietmar Heinrich mit der Thematik Innovation auseinander und gratulierte den Preisträgern: "Innovationen wie Ihre Arbeiten sind eine Investition in die Zukunft. Es ist wichtig, den Bereich Lagerungstechnik mit frischen Ideen stetig zu optimieren. Und genau dazu will der Schaeffler Innovation Award ermutigen." Heinrich ging abschließend auf die besondere Schaeffler-Innovationskraft ein: Vor 70 Jahren kam Georg Schaeffler auf die Idee zur Verbesserung des Nadellagers. "Aus dieser 1949 geborenen Idee mit der Käfigführung wuchs der heutige Weltkonzern heran, der nicht nur Innovationspreise vergibt, sondern selbst höchst innovativ ist!"
Die Preisträger der Kategorie Promotion
Der 1. Preis in Höhe von 7.000 Euro ging an Dr.-Ing. Christian Bongardt, der sich mit dem Thema "Wälzlagergraufleckigkeit" auseinandersetzte. Den 2. Preis in Höhe von 5.000 Euro erhielt Ph.D. Viktorija Rumpf. Ihre Arbeit trägt den Titel "A Study of Microstructural Alterations in White Etching Cracks, Dark Etching Region and White Etching Bands in Rolling Contacts". Dr.-Ing. Martin Weschta, der ebenfalls mit dem 2. Preis für seine Dissertation ausgezeichnet wurde, untersuchte die "Wirkungsweise von Mikrotexturen in elastohydrodynamischen Gleit-/Wälz-Kontakten". Der 3. Preis und 4.000 Euro gingen an Dr.-Ing. Bernd Vierneusel für seine Dissertation "Verschleiß- und feuchteresistente MoS2-Festschmierstoffschichten für den Gleit- und Wälzkontakt".
Die weiteren Preisträger
In der Kategorie "Bachelor- und Masterarbeiten" erhielt B.Sc. Andreas Handel für seine Bachelorarbeit zum Thema "Maschinelles Lernen und Signalanalyse – Bewertung des Akustikverhaltens von Wälzlagern" 1.000 Euro. M.Sc. Vishwas Manjunath befasste sich in seiner Masterarbeit mit dem Thema "Optimization of raceway osculation for spherical roller bearings." Auch seine Arbeit über die Optimierung der Laufbahnschmiegung von Pendelrollenlagern wurde mit 1.000 Euro gewürdigt.
Publisher: Schaeffler AG
Country: Germany
Share Page