"Brand Manager of the Year" - Ehrenpreis an die Familiengesellschafter der Schaeffler Gruppe vergeben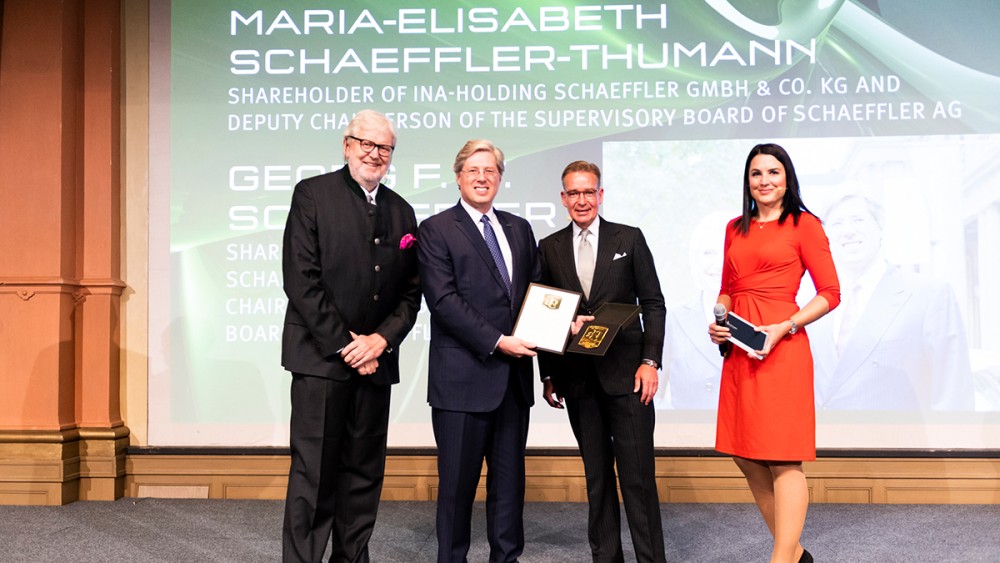 2019-09-13 | Herzogenaurach/Frankfurt
Die beiden Familiengesellschafter der Schaeffler Gruppe, Maria-Elisabeth Schaeffler-Thumann und Georg F. W. Schaeffler wurden am Dienstagabend im prächtigen Festsaal des Gesellschaftshauses am Frankfurter Palmengarten mit dem renommierten Award "Brand Manager of the Year" des Rat für Formgebung im Rahmen des "Automotive Brand Contest" ausgezeichnet. Gewürdigt wurde der Unternehmens- und Markenaufbau durch engagiertes Unternehmertum, innovative Produkte, Übernahmen von Unternehmen und globale Expansion.
Die Festrede hielt der bekannte Motor- und Autojournalist Jürgen Lewandowski, der in einer sehr persönlichen Rede das Lebenswerk von Mutter und Sohn würdigte. Familiengesellschafter und Aufsichtsratsvorsitzender Georg F. W. Schaeffler nahm die Auszeichnung dankend entgegen und hob besonders die Leistungen seines Vaters, seines Onkels und seiner Mutter beim Aufbau des Unternehmens hervor.
"Eine starke Marke schafft Vertrauen"
"Wir möchten uns für diese ehrenvolle Auszeichnung bedanken und nehmen sie gerne stellvertretend für die ganze Schaeffler-Unternehmensfamilie mit ihren rund 90.000 Mitgliedern an. Eine starke Marke steht für die Qualität der Produkte und Dienstleistungen, wirkt identitätsstiftend für die Mitarbeiter und schafft Vertrauen bei den Geschäftspartnern – auch durch die damit verbundenen immateriellen Werte", sagte Georg F. W. Schaeffler bei der Award-Übergabe in Frankfurt.
Publisher: Schaeffler AG
Country: Germany
Share Page