High-tech and maximum precision
New edition of Schaeffler's spare parts catalog for the valve train now available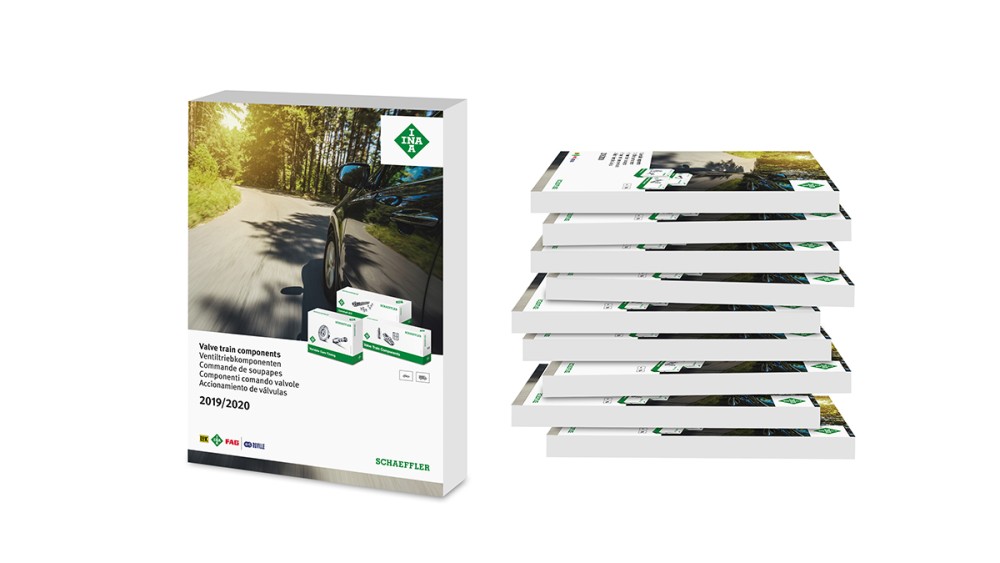 2019-09-16 | Langen
The holistic repair solution – INA Camshaft KITs
More than 430 individual components
Market-leading coverage of the European car parc with repair solutions for over 70 vehicle manufacturers
CO2 values, noise emissions, dependability and efficiency – demands on modern engines continue to increase, which represents an ever-growing challenge to engine developers. In this, the valve train is the decisive control adjustment for a perfectly-functioning combustion process. Under its INA brand Schaeffler is technology leader when it comes to valve trains. Its new "INA Valve Train Components 2019/2020" spare parts catalog lists a comprehensive portfolio for holistic repair. On more than 400 catalog pages, garages can find not only a comprehensive range of INA Camshaft KITs, but over 430 different individual components as well. These include camshafts, camshaft phasing units, central and control valves, rocker arms and swing arms, pivot elements, along with hydraulic and mechanical bucket tappets.
Schaeffler has developed innovative valve train components for decades under its INA brand and, with the right repair solution for over 70 vehicle manufacturers, has achieved a leading position in the European spare parts market. "With this market-leading product range, we underscore our system expertise for valve trains, which continue to get more complicated all the time," said Maik Evers, Director Extended Products at Schaeffler Automotive Aftermarket. Growth products for the Aftermarket include especially electric and hydraulic camshaft phasing units, which Schaeffler offers for chain drives and timing belt drives from a single source.
To ensure simple and long-term replacement, the INA Camshaft KITs from Schaeffler come with all necessary accessory parts and are tuned to work perfectly together. In a single box are all the spare parts and mounting parts, which saves garage employees time when doing an extensive search for the right parts.
The spare parts catalog from Schaeffler offers an overview of all valve train components for vehicles built between 1961 and the present day. Clearly organized and with a logical catalog structure, garage professionals can find the spare parts and repair solutions they are looking for fast. All content is in five languages – English, German, French, Italian and Spanish. Garages can obtain the "INA Valve Train Components 2019/2020" catalog for passenger cars and light commercial vehicles at the distribution partners of Schaeffler's Automotive Aftermarket division. In addition, the reference work can be downloaded at www.schaeffler.de/aftermarket and www.repxpert.com.
Publisher: Schaeffler Automotive Aftermarket GmbH & Co. KG
Country: Germany
Share Page