Special CONCEPT2 lubricator set for electric motors
Better performance, less cost thanks to automatic relubrication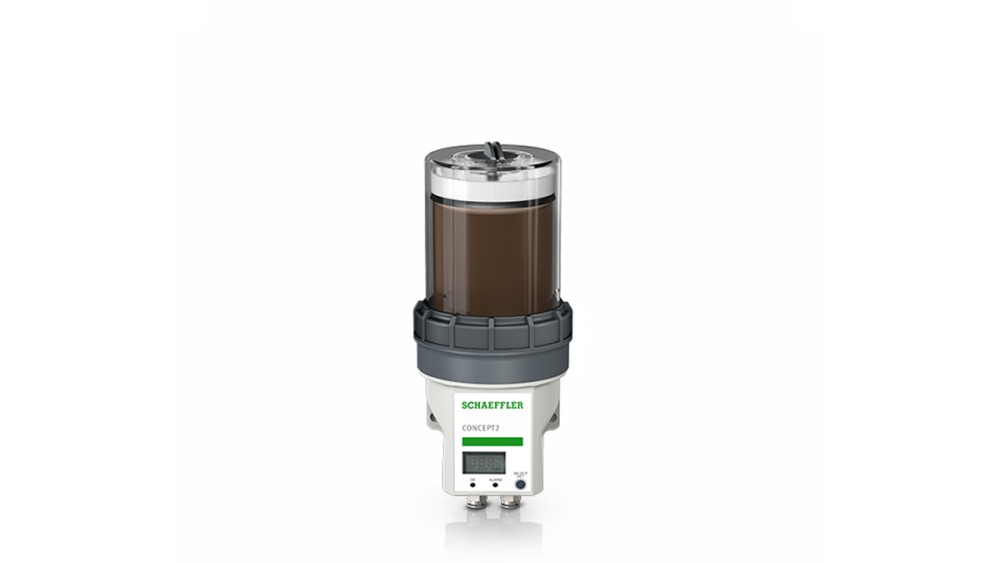 2020-01-08 | Herzogenrath
CONCEPT2 lubricator for automatic relubrication
Available as an economical set including accessories – perfect for use with electric motors
Arcanol lubricants for rolling bearings and linear applications: 'FAG Arcanol' has been rebranded as 'Schaeffler Arcanol'
An efficient and economical lubrication concept includes not only the choice of a suitable lubricant but also the relubrication provision. Schaeffler has developed an 'e-kit' specifically for electric motors. This kit is suitable for use with the automatic CONCEPT2 lubricator from Schaeffler which can independently supply up to two lubrication points with lubricant and provides electric motor operators with an economical way to upgrade the CONCEPT2 system.
E-kit upgrade, complete with all mounting accessories
The e-kit includes the CONCEPT2 lubricator (as either battery-driven or 24 Volt variant) and all the accessories required for mounting and installation. Existing lubrication systems can thus be easily upgraded to a fully-automatic relubrication system.
The e-kit contains angled hose connectors and a 3 m length of hose which can be shortened as required. The kit also includes a mounting bracket with a set of small parts for mounting at an angle of 45 or 90 degrees using eye bolts and the hose connectors for a 6 mm diameter hose to replace the existing lubrication nipple.
Maintenance 4.0 reduces costs
Automatic relubrication devices provide fresh lubricating grease to the contact points of the rolling bearing in the desired quantity and at the right time. They can also be controlled externally as required and are easy to integrate into machine operation. Under- and overlubrication and the resulting downtimes can be avoided just as reliably as system contamination due to excess lubricant. For maintenance personnel, automated relubrication devices mean considerably less work, improved operating reliability and often reduced maintenance costs.
'FAG Arcanol' has been rebranded as 'Schaeffler Arcanol'
CONCEPT2 uses Schaeffler Arcanol lubricating greases. They provide specific lubrication properties for almost every type of industrial application. All Arcanol lubricants are extensively tested for their suitability. This includes many test rig tests which simulate a range of installation conditions and thus investigate the interaction between the rolling bearing and the lubricating grease under real conditions.
As part of the conversion of the Schaeffler Group's external presence and branding, selected product groups are being converted to the Schaeffler brand. 'FAG Arcanol' has now been rebranded as 'Schaeffler Arcanol'. The look of the entire Arcanol product range will be brought in line with the Schaeffler corporate design.
Publisher: Schaeffler Technologies AG & Co. KG
Country: Germany
Share Page