Condition Monitoring with the FAG DTECT X1 in a Rolling Mill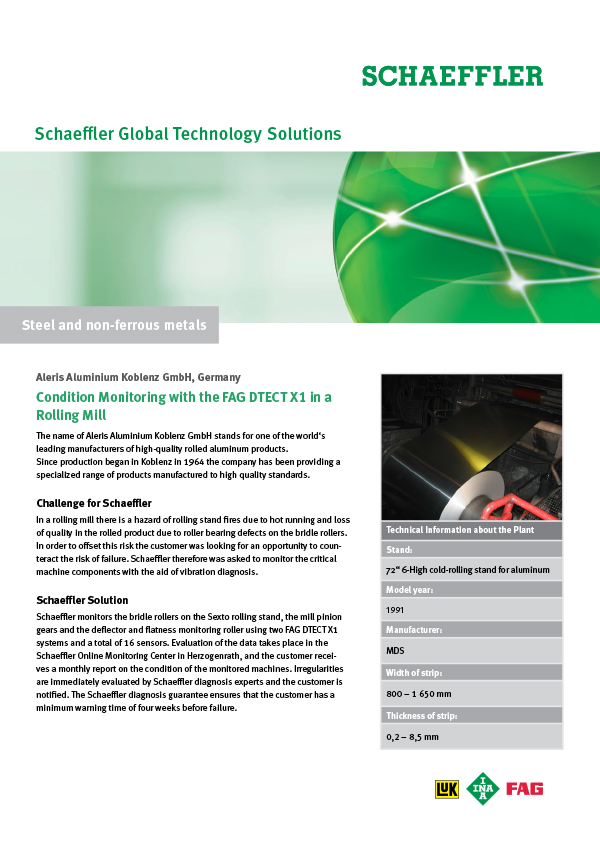 The name of Aleris Aluminium Koblenz GmbH stands for one of the world's
leading manufacturers of high-quality rolled aluminum products.
Since production began in Koblenz in 1964 the company has been providing a
specialized range of products manufactured to high quality standards. Challenge for Schaeffler:
In a rolling mill there is a hazard of rolling stand fires due to hot running and loss
of quality in the rolled product due to roller bearing defects on the bridle rollers.
In order to offset this risk the customer was looking for an opportunity to coun -
teract the risk of failure. Schaeffler therefore was asked to monitor the critical
machine components with the aid of vibration diagnosis.
Media category: Customer Success StoriesGTS 0049
Date: 2014-06-10
Publisher: Schaeffler Technologies AG & Co. KG
Pages: 2
Language: English
Other languages
---
Share Page