360° Lifecycle Management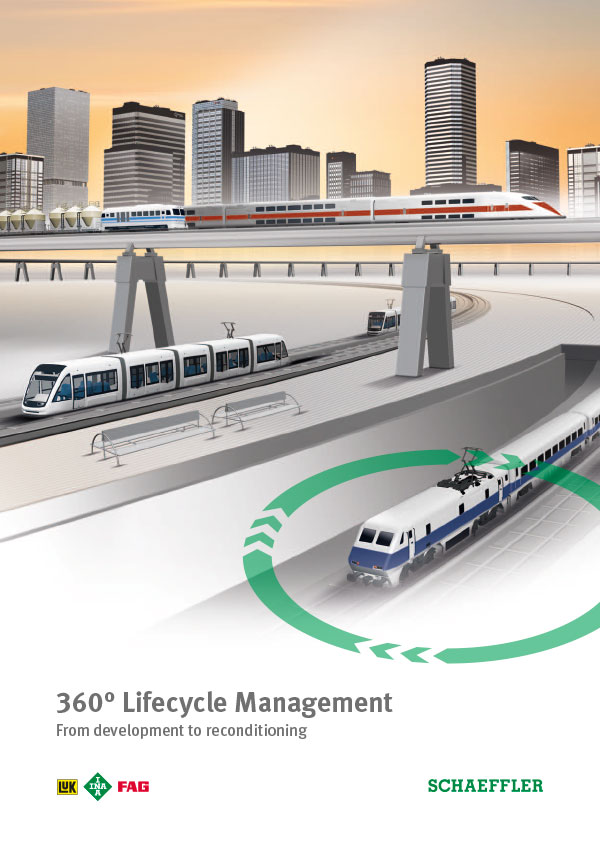 From development to reconditioning
Solutions for Mobility for Tomorrow
Megatrends such as globalization and urbanization and the growing requirements for affordable mobility are leading to changed, much more dynamic market requirements and business models. In collaboration with customers and business partners, Schaeffler is actively shaping areas of focus, such as environmentallyfriendly
drives for urban and interurban mobility, by carrying out its own research and development and offers solutions for "Mobility for tomorrow".
The monitoring of product lifecycle costs is gaining in importance, particularly in the field of railway engineering. During times of limited budgets, it is particularly important that safe, reliable, and durable products are developed and manufactured – products that can then be operated economically throughout their entire operating life.
Schaeffler's range of products and services provides individual solutions with railway application engineering experts located in close proximity to our customers.
Media category: BrochurePLM
Date: 2014-09-30
Publisher: Schaeffler Technologies AG & Co. KG
Pages: 8
Language: English
Other languages
---
Share Page