Spectacular operation on the high seas – Special ELGES ® spherical plain bearings of X-life quality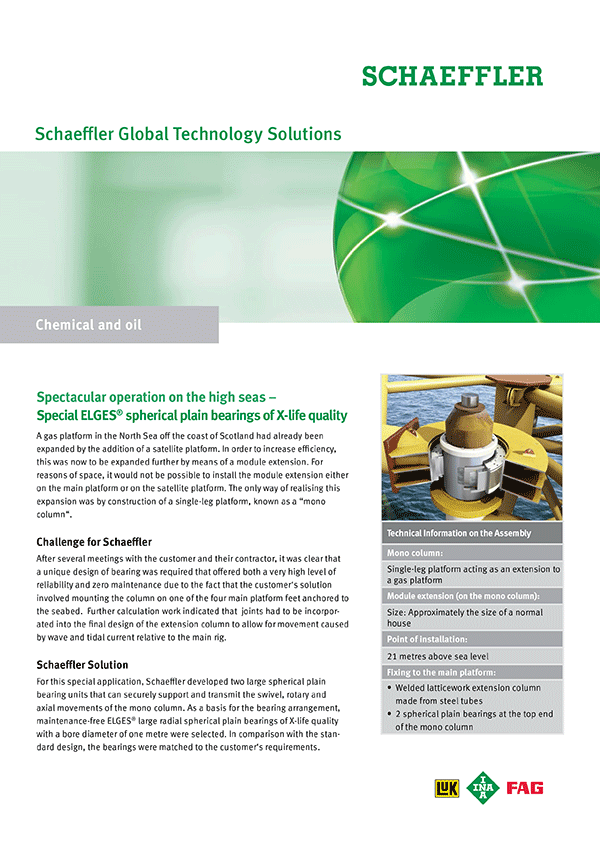 A gas platform in the North Sea off the coast of Scotland had already been expanded by the addition of a satellite platform. In order to increase efficiency, this was now to be expanded further by means of a module extension. For reasons of space, it would not be possible to install the module extension either on the main platform or on the satellite platform. The only way of realising this expansion was by construction of a single-leg platform, known as a "mono column". Challenge for Schaeffler: After several meetings with the customer and their contractor, it was clear that a unique design of bearing was required that offered both a very high level of reliability and zero maintenance due to the fact that the customer's solution
involved mounting the column on one of the four main platform feet anchored to the seabed.
Media category: Customer Success StoriesGTS 0094
Date: 2015-03-26
Publisher: Schaeffler Technologies AG & Co. KG
Pages: 2
Language: English
Other languages
---
Share Page