Condition Monitoring of Wind Turbines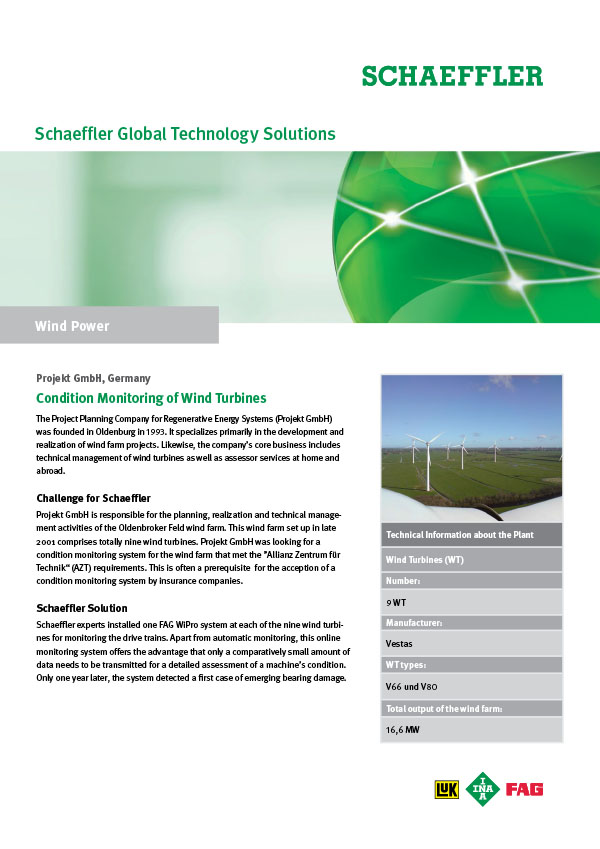 The Project Planning Company for Regenerative Energy Systems (Projekt GmbH)
was founded in Oldenburg in 1993. It specializes primarily in the development
and realization of wind farm projects. Likewise, the company's core business
includes technical management of wind turbines as well as assessor services at
home and abroad. Challenge for Schaeffler
Projekt GmbH is responsible for the planning, realization and technical manage-
ment activities of the Oldenbroker Feld wind farm. This wind farm set up in late
2001 comprises totally nine wind turbines. Projekt GmbH was looking for a
condition monitoring system for the wind farm that met the "Allianz Zentrum für
Technik" (AZT) requirements.
Media category: Customer Success StoriesGTS 0017
Date: 2012-09-27
Publisher: Schaeffler Technologies AG & Co. KG
Pages: 2
Language: English
Other languages
---
Share Page