More technical knowledge for garages
Schaeffler and BILSTEIN launch pilot project on REPXPERT garage portal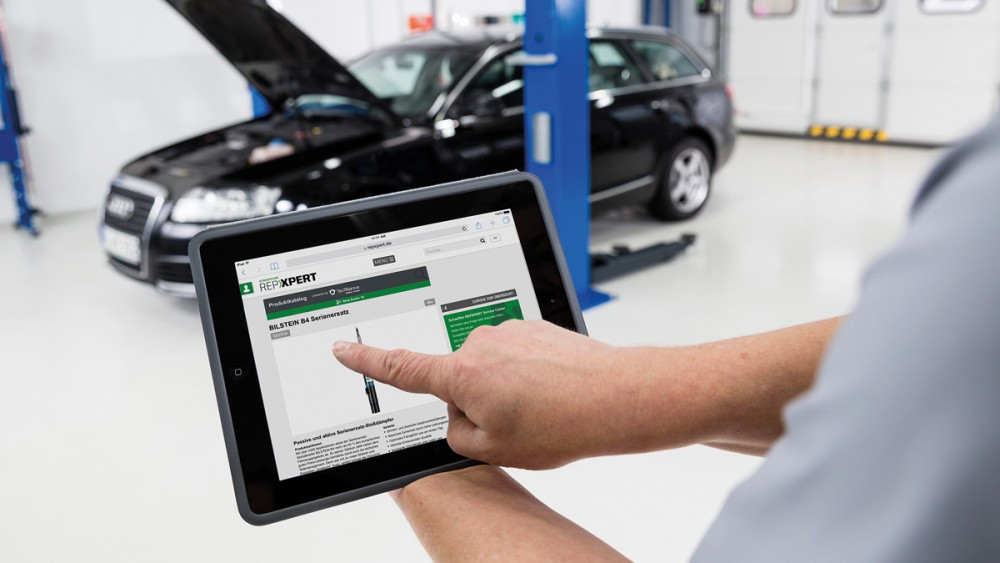 2021-06-01 | Langen
Automotive Aftermarket and BILSTEIN extend successful cooperation in the field of technical training
REPXPERT online garage portal integrates shock absorber, suspension and spring expertise from BILSTEIN
Cooperation will initially run for six months in Germany, Poland, and the United Kingdom
Schaeffler's Automotive Aftermarket and German shock absorber and spring manufacturer BILSTEIN are expanding their cooperation in technical training, established in 2019, and strengthen their partnership: from now on, registered users on REPXPERT, Schaeffler's online garage portal, can find the complete BILSTEIN product range of suspension damping and springs, including product information, installation videos, practical tips and vehicle-specific installation instructions via our partner TecAlliance. In addition, all BILSTEIN products are available in the TecDoc parts catalog.
"Garages appreciate the amount of information on the REPXPERT portal, but also want to have more knowledge beyond the Schaeffler product range. With this cooperation, we are tackling the demand and provide mechanics exactly what they need for their work: even more technical know-how and support for their daily work. This is exactly what REPXPERT stands for," says Sven Olev Mueller, Head of Schaeffler REPXPERT. During the initial six-month pilot phase, BILSTEIN content will also be published on the REPXPERT social media channels and the REPXPERT newsletter. The newsletter also provides information about new online training courses, which will be expanded in the coming months. "If this pilot project is as well received by garages as our joint training courses, we will extend the cooperation and add further countries," says Mueller. Initially, the pilot phase project will be running in Germany, Poland, and the United Kingdom.
Holistic approach for chassis repairs today and in future
For garages, technical trainings play a crucial role in mastering challenges such as digitization, vehicle technology becoming increasingly complex, and highly efficient repair processes. In order to provide garage professionals with the best possible support, the cooperation between the two chassis specialists connects in a smart way. "We are pleased to launch the pilot phase with BILSTEIN content on REPXPERT together with Schaeffler. By bundling Schaeffler's expertise in the chassis system and BILSTEIN as a manufacturer of shock absorbers and springs, we are creating an excellent basis for providing high-quality content for garages," says Volker Wegerhoff, Head of Sales Aftermarket at BILSTEIN. The training courses in particular benefit from the expertise of the two major players in the industry. "The common technology context makes it much easier to illustrate the individual work steps and the interrelationships between the components," says Rainer Popiol, Head of BILSTEIN Academy.
Registered users find all information about the REPXPERT garage portal at www.repxpert.de.
Publisher: Schaeffler Automotive Aftermarket GmbH & Co. KG
Country: Germany
Share Page