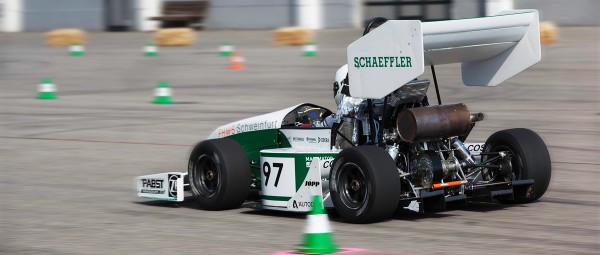 The fascination of motorsport
Support and know-how for the talent of tomorrow
Formula Student Germany
For the tenth time in a row, Schaeffler promotes the Formula Student Germany 2023 as one of the main sponsors. Schaeffler supports tenof the over 100 student teams financially, but also technical know-how and own products help the students to construct their own racing car.
The Formula Student is an ideal platform to test the acquired engineering knowledge in practice and in competition and at the same time to develop a comprehensive understanding on many levels.This makes the participants to well liked candidates. As a sponsor, we are in close contact with the teams and support the students with regard to career topics within Schaeffler.
From the 14th to the 20th of August 2023 the Formula Student Germany took place at the Hockenheimring. Over 100 student teams of universities from all over the world compete highly motivated with their own racing cars.
---
The Challenge
Formula Student Germany is an international design competition, for which technically oriented students accept the challenge to develop a single-seat formula race car, design it, and ultimately build it. For five days the international student teams then compete with the vehicles they constructed.
Formula Student Electric & Formula Student Driverless
These subordinates of the Formula Student promote the development and construction of electric and driverless vehicles within the Formula Student-Competition. The Schaeffler Group has been supporting the Formula Student Germany teams since 2006, Formula Student Electric teams since 2010 and teams building a driverless car since 2017.
---
Experience us virtually and in live chat on our CareerXperience platform. There you can get in touch with us personally, register for lectures and visit our virtual training center.
Share Page