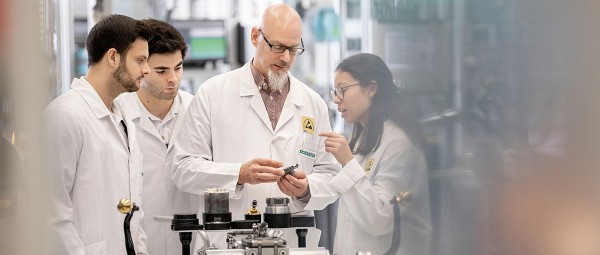 Internship
During your time with us, you will work on challenging, genuine projects – not ones that are destined for the wastepaper basket. During your internship, you will be an integral and key part of the respective team and will gain a realistic insight into working life. On-the-job training will enable you to apply the theoretical knowledge you have acquired to specific tasks.
Challenging topics.
We offer a range of interesting and challenging topics in various areas to students from a wide variety of disciplines.
You will enhance your theoretical knowledge with practical experience by working independently in departments and handling tasks, potentially also within a project. Schaeffler is therefore happy to offer students both compulsory and voluntary internships.
---
Internship Abroad
Gaining practical experience in international environments.
An internship abroad provides the unique opportunity to gain valuable intercultural and personal experience in an international environment.
Please use the search for available internships on the respective country websites. You are also welcome to send a speculative application to your countries of choice.
---
Experience us virtually and in live chat on our CareerXperience platform. There you can get in touch with us personally, register for lectures and visit our virtual training center.
Share Page