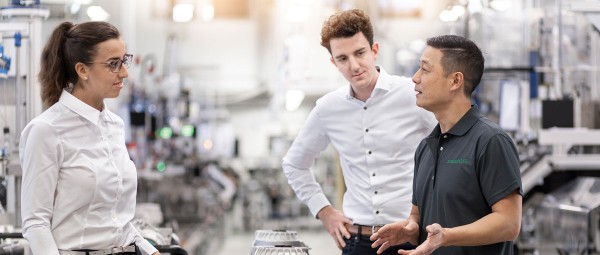 Graduates
Graduates who start their career at Schaeffler through direct entry or in our trainee program receive structured introductory training supported by a mentor. Benefit from tailor-made training measures and intensive advice and support.
Introduction
We Offer you Many Opportunities. Join Us.
You have successfully completed your studies?
Then start your career at Schaeffler through direct entry as a specialist or in our trainee program.
Program
You go through a range of core and elective areas over a period of 18 to 24 months and work on challenging projects. The individual components of the program are individually tailored to your qualifications, interests and the requirements of the targeted department. During a six-month stay abroad, you also gain international experience.
Functional areas
The program is offered in various areas, for example:
Quality, Finance, Human Resources, Operations (Production, Logistics, Purchasing), Automotive, Digitalization
You can find the current trainee vacancies at our Job Search.
Read here what a trainee program in the areas of operations and digitalization looks like.
Direct entry
You Have the Choice
We are looking for you
The Schaeffler Group offers challenging tasks with a wide scope for personal initiative. According to our philosophy "to encourage and challenge", you will have the opportunity to develop your job-related and interpersonal skills and discover the wide scope of an international technology company.
Functional areas
Possible departments are, for example:
Testing, Application Engineering, Design, R&D
Production, Quality Assurance
Sales, Purchasing
Controlling, Finance
Systems Engineering, System Development
Digitalization
Marketing, HR
Logistics, Materials and Production Management
Wanted: Teamplayer
We are looking for you
Especially for the area of Sustainable Mobility, we are looking for motivated employees who can help us to innovatively shape sustainable mobility. Are you a system, hardware or software developer?
Experience us virtually and in live chat on our CareerXperience platform. There you can get in touch with us personally, register for lectures and visit our virtual training center.
Share Page