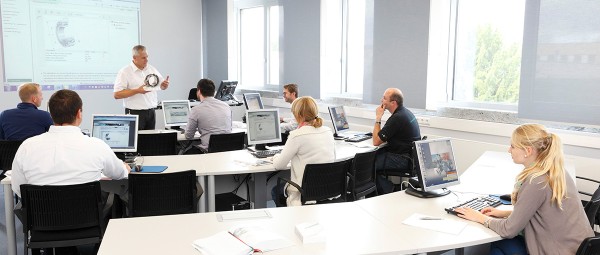 Our online seminars and classroom training sessions
Acquire the knowledge you need regardless of location - our online seminars are ideal for this purpose. In a live event, we impart knowledge interactively on our training topics Products, Basics, Mounting and Condition Monitoring and present this in an exciting way using our modern equipment. All you need is a computer or laptop and an internet connection to participate.
Our classroom training sessions combine theoretical and practical elements and thereby form an interesting mixture for transferring knowledge: from advanced workshops and the analysis of vibration data through to tackling mounting exercises.
Do you have specific requirements regarding the contents? Tell us which training you would like to have and we will develop the appropriate online seminar or face-to-face training for you with the help of defined modules. Please contact us at schulungszentrum@schaeffler.com
This option allows you to remain flexible as you choose when you wish to study and you decide in which order you'd like to study topics – on the medias product catalog & digital knowledge base, new knowledge is only a few clicks away. Please click on the link below to visit the Schaeffler Group medias platform.
More knowledge, more efficiency - our training concept
In thousands of applications today, rolling bearings, plain bearings, and linear guidance systems are indispensable. Our precision products contribute to progress in everything that moves. However, only with an in-depth understanding can they be used in such a way that ensures their full potential is reached. This is why the Schaeffler Technology Center – Training has a modular range of training courses on offer, which fully cover the individual information requirements of technical and commercial employees.
System: The courses cover basic principles through to in-depth specialist knowledge of rolling bearings, mechatronics, systems engineering, assembly, dismantling, and condition monitoring. The progressive learning processes are taught at basic, advanced, and intensive levels.
Trainers: Trainers are qualified in terms of didactics and methods and ensure maximum learning success is achieved in compact training units. They also ensure practical knowledge transfer takes place in different languages at local locations.
Quality: Findings from market observation, exchange of experiences, feedback, and ideas and suggestions from participants are integrated into the continuous improvement of the training course program. The Schaeffler Technology Center – Training is also certified according to ISO 9001:2015, which is thanks in part to our high demand for quality.