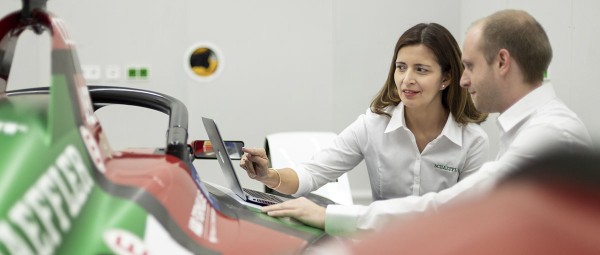 Mobility - sustainable and autonomous.
Take part and join our team!
Making mobility sustainable, electric and autonomous
Innovative strength and pioneering spirit have always been Schaeffler's strengths. We have recognized the signs of the times and are equipped for the future of mobility.
As a system partner to the automotive industry, we are meeting the challenge of contributing to a significant reduction in CO2 emissions in the mobility sector by 2050 with our own solutions. Under the motto "Making Mobility Sustainable and Autonomous", we want to answer the question of how sustainable mobility can be designed innovatively.
This question also moves you and you want to participate? Then we need you in our team!
You are enthusiastic about hard- and software and the development of system concepts is one of your passions? Schaeffler is part of the automotive transformation and is significantly participating in megatrends such as electrification and autonomous driving. We are looking for like-minded people who would like to join us in in our efforts to shape the future. In our team we are working together on new technologies. Join us! We are looking forward to meeting you!
Do you enjoy technological challenges as much as you have a passion for developing algorithms, functions, sensor technology and software? Then you are in the right place with us. Schaeffler uses multiprocessor architectures to develop innovative software concepts for high-safety embedded software products and is actively involved in shaping technological change. We work together on the automotive future and create the conditions for both electrified and fully autonomous driving. Therefore, we are looking for new colleagues. Take part and join our team!
Are you familiar with power electronics and sensor technology? Schaeffler develops innovative power electronics and sensor technology, including for highly integrated steer-by-wire actuators, for future vehicle concepts, regardless of the type of drive concept. We are therefore looking for reinforcement for our team. Have we caught your interest? Then get in touch with us!
You are still studying and would like to contribute to sustainable mobility? We offer you the opportunity to gain practical experience and insights into the world of e-mobility. Whether it's an internship, a thesis or a working student position - with us you will find exciting insights into professional life.
---
You couldn't find the right job?
Then contact usand together we will find out whether one of our positions matches your expertise and requirements!
Recruiting Center Germany
Schaeffler Technologies AG & Co. KG
Industriestraße 1-3
D-91074 Herzogenaurach
---
---
Increasing urbanization demands innovative mobility concepts and autonomous technologies. The all-electrically driven Schaeffler Mover is characterized by its extremely high maneuverability thanks to a steering angle of up to 90 degrees. The Schaeffler Paravan technology "Space Drive" ist the world's only triple-redundant drive-by-wire system licensed for on-road use and a key technology in the field of autonomous driving.
We are looking for committed graduates, specialists and experts in the field of autonomous driving who have a feel for trends and are enthusiastic about mobile transformation.
---
The consumption and emissions targets of the future can only be fully met through electrification of the drive train. As a result, Schaeffler offers products across the full bandwidth of electrification options - from 48-volt hybrids and plug-in hybrids to drives for purely electric vehicles. This broad spectrum of knowledge makes Schaeffler an expert partner to the various markets and customers it serves - such as with components and systems for hybrid modules, electric axle drives, and electric wheel hub drives.
In the field of electromobility, we are looking for new employees to join us in shaping the mobile transformation.
---
As if by magic: Remote Run for the DTM Electric Democar
Schaeffler engineers have brought their vision of autonomous driving to life and created a superlative technological masterpiece: a 1,200-hp electric racer – controlled remotely by racing driver Tim Heinemann in an AVL simulator 80 km away. The DTM Electric Democar's Remote Run at the Red Bull Ring – as if by magic.
---
Working for a reason
Seeing one's own work culminate in success is probably one of the most beautiful feelings. Two Schaeffler employees from the field of electromobility were also able to experience this up close during the employee event at the BerlinEPrix of the FIA-FormulaE when Lucas di Grassi won.
---
Experience us virtually and in live chat on our CareerXperience platform. There you can get in touch with us personally, register for lectures and visit our virtual training center.
---
Share Page