Replacement of Main Trunnion Bearings on BOS Plant Vessels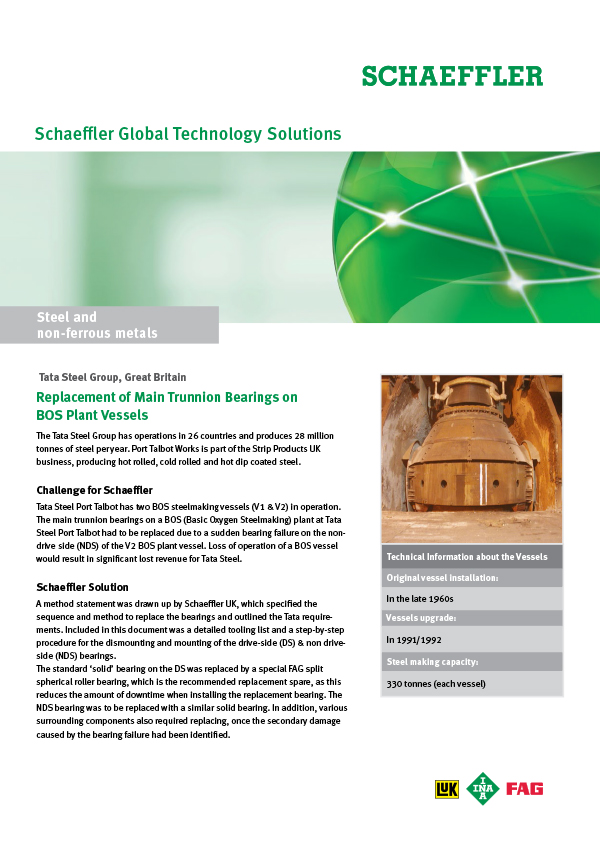 The Tata Steel Group has operations in 26 countries and produces 28 million
tonnes of steel per year. Port Talbot Works is part of the Strip Products UK
business, producing hot rolled, cold rolled and hot dip coated steel.
Challenge for Schaeffler:
Tata Steel Port Talbot has two BOS steelmaking vessels (V1 & V2) in operation.
The main trunnion bearings on a BOS (Basic Oxygen Steelmaking) plant at Tata
Steel Port Talbot had to be replaced due to a sudden bearing failure on the non-
drive side (NDS) of the V2 BOS plant vessel. Loss of operation of a BOS vessel
would result in significant lost revenue for Tata Steel.
Media category: Customer Success StoriesGTS 0080
Date: 2014-06-10
Publisher: Schaeffler Technologies AG & Co. KG
Pages: 2
Language: English
Other languages
---
Share Page