Schaeffler AG receives Innovation Award for its IPO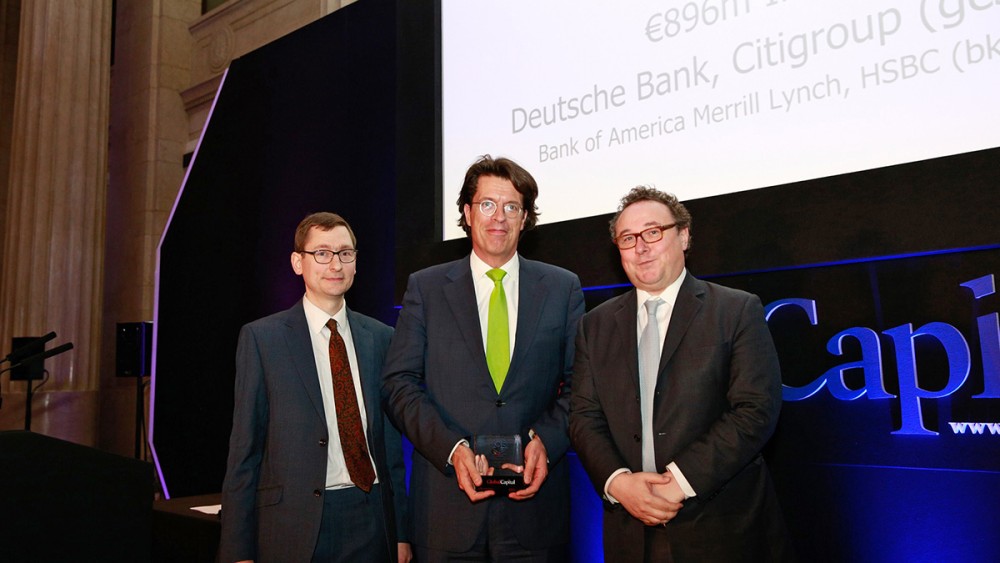 2016-03-17 | Herzogenaurach
Schaeffler IPO awarded with Global Capital Award in London
Award for "Most innovative Equity Capital Markets transaction" in 2015
Schaeffler AG received the Equity Capital Markets Award in the category "Most innovative ECM deal" for its IPO in October 2015. The award was presented by the prestigious "Global Capital" Journal and is the result of a vote of numerous banks, institutional investors and other capital market participants.
Klaus Rosenfeld, CEO of Schaeffler AG, accepted the award at an award ceremony in London and said: "We are pleased that our IPO has been awarded as the most innovative IPO of the year. This also shows that Schaeffler realizes innovative ideas and concepts in the field of finance. I would like to thank all who have supported us in realizing this successful IPO."
Deutsche Bank AG and Citigroup Global Markets Limited were appointed as Joint Global Coordinators and Joint Bookrunners for the IPO. Bank of America Merrill Lynch International Limited and HSBC Trinkaus & Burkhardt AG were mandated as Joint Bookrunners.
The shares of Schaeffler AG have been traded since October 9, 2015 on the regulated market (Prime Standard) of the Frankfurt Stock Exchange (Frankfurter Wertpapierbörse) under the ticker symbol SHA, the German Securities Identification Number (WKN) SHA015 and the International Securities Identification Number (ISIN) DE000SHA0159. Since December 21, 2015, the shares of Schaeffler AG have been included in the selection index SDAX of the Frankfurt Stock Exchange.
Publisher: Schaeffler AG
Country: Germany
Share Page