Complete. Ready-to-install. Safe.
FAG Complete Hub – the ready-to-install wheel bearing repair solution including hub for commercial vehicles from Schaeffler in the Automotive Aftermarket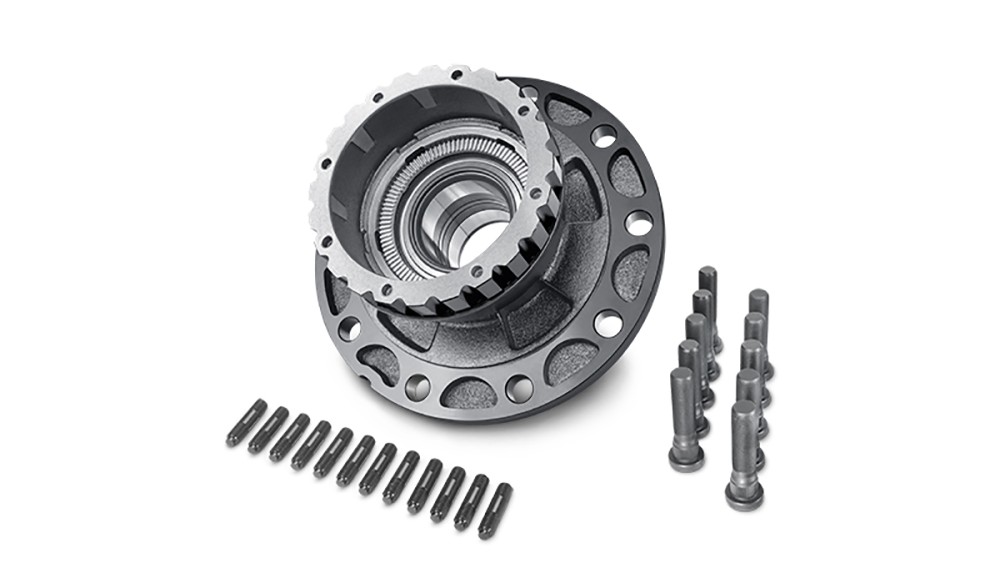 2020-09-29 | Langen
Easy installation for absolute safety and maximum service life
Fast repair during initial installation and subsequent services
Proven original equipment quality
With the FAG Complete Hub Schaeffler is extending its product portfolio for wheel bearing repair solutions of trucks and trailers and enables a simple and complete repair including the wheel hub. Depending on the application, the ready-to-install FAG Complete Hub unit contains the wheel hub including the respective Schaeffler wheel bearing repair solution FAG Repair Insert Unit, FAG Truck Hub Unit or FAG SmartSET, the ABS encoder ring and all accessory parts required for mounting, such as bolts and screws.
Highest safety and extended service intervals for maximum mobility
Wheel bearings are one of the most heavily stressed components in commercial vehicles. The repair is cumbersome and time-consuming. With the FAG Complete Hub, Schaeffler has developed a ready-to-install complete unit which is pre-assembled, pre-positioned and lubricated for life. This saves garages and fleet operators valuable time during the repair. Due to the reduced complexity of the repair, possible reasons for premature failure such as insufficient lubrication or ingress of dirt are eliminated right from the start. This allows garages to conduct a safe repair, minimize installation-related consequential damage and ensure a long service life of the components. What's more: Thanks to the increased repair quality and the durability of the components, service intervals are extended and have a positive effect on the operating costs for fleet operators.
Fast and safe during maintenance or follow-up repairs
In the event of upcoming maintenance or, for example, brake repair, a mounted FAG Complete Hub allows for a fast repair because it always contains a pre-assembled wheel bearing unit from Schaeffler. Hub and wheel bearing always remain as a complete unit during disassembly and reassembly. There is no need to re-install the inner ring or re-lubricate the bearing which saves the garage additional time. This makes the FAG Complete Hub stand out from the competition – in particular in combination with the FAG SmartSET for vehicles with standard tapered roller bearings.
Proven original equipment quality
The FAG Complete Hub exclusively contains FAG wheel bearings in proven OE quality. Each product is subjected to strict quality control. A perfect bearing position and smooth, balanced running of the wheel bearing in the wheel hub are constantly tested. Of course, all components meet the quality standards of the series manufacturers. The range of 24 articles under the FAG brand comprises precisely fitting repair solutions for all common European applications.
Further information on FAG branded products and the complete Schaeffler product range for the automotive aftermarket can be found on the garage portal www.repxpert.com.
Publisher: Schaeffler Automotive Aftermarket GmbH & Co. KG
Country: Germany
Share Page