For Automatic and Individually Adjustable Lubrication
Schaeffler adds the CONCEPT1 and CONCEPT4 to its range of lubricators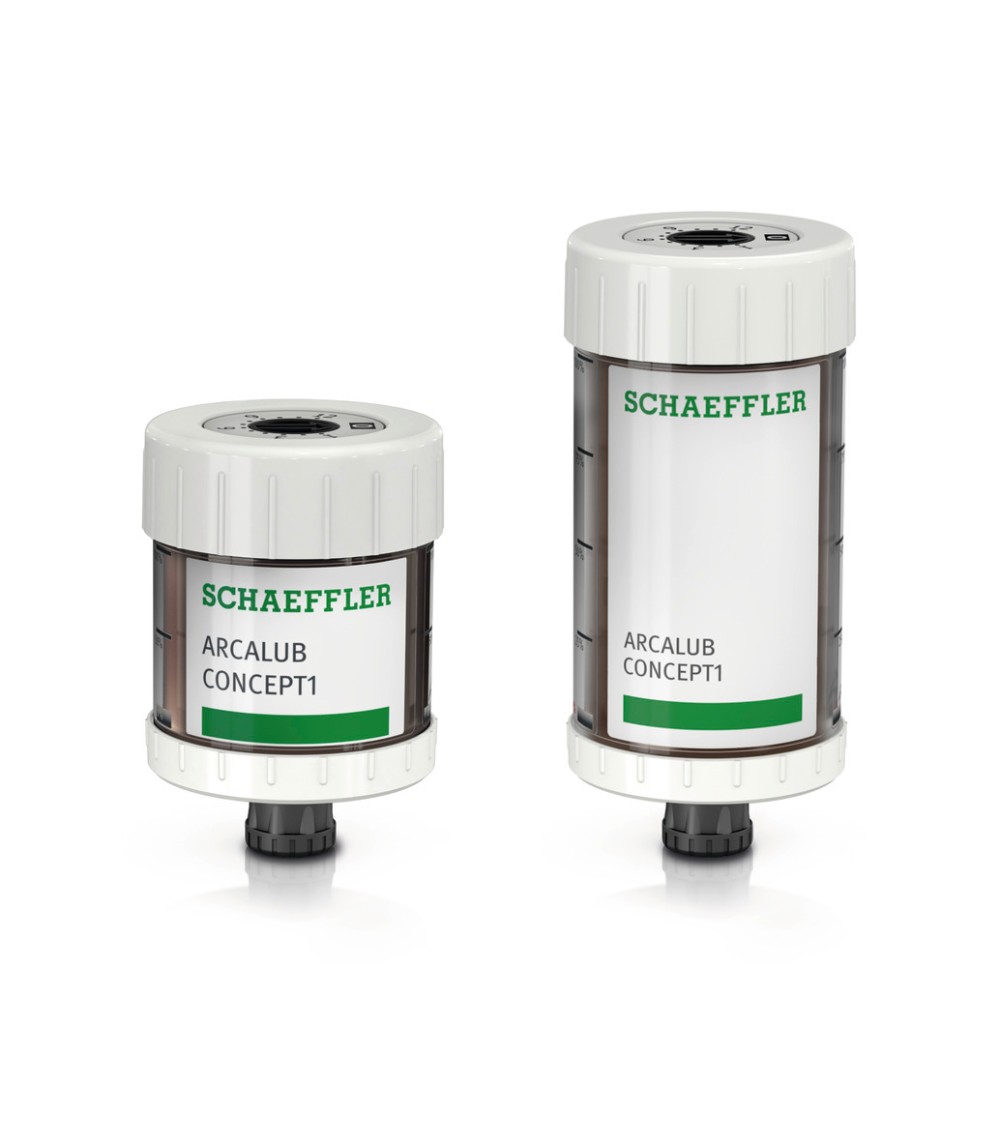 2020-12-15 | Schweinfurt
CONCEPT1 and CONCEPT4 lubricators ensure automatic, individually adjustable lubrication
Maintenance outlay and costs reduced by up to 30 percent
Eco-friendly and flexible: All lubricators and cartridges can be refilled multiple times, even with lubricants from outside the Arcanol range
Manual lubrication frequently takes place too late and with too much lubricant. An automatic lubricant supply prevents overlubrication and underlubrication and also saves time and extends the bearings' operating life. Maintenance outlay and maintenance costs can be reduced by up to 30 percent compared to manual lubrication, and problem-free production is ensured in the long term.
Schaeffler has now expanded its CONCEPT range through the addition of further automatic lubricators. In addition to the existing lubricators – the CONCEPT2 with two lubricant supply line outlets and the CONCEPT8 with eight lubricant supply line outlets – the range is now completed by the CONCEPT1 and CONCEPT4 lubricators. The CONCEPT1 is designed for automatic relubrication of one lubrication point, while the CONCEPT4 can independently supply up to four lubrication points.
Another new development is that the CONCEPT1 lubricator itself and the replacement cartridges for the CONCEPT4 can be filled up to three times in just a few steps, even with greases from outside Schaeffler's proprietary Arcanol range. This reduces waste, helps protect the environment, and saves maintenance costs.
CONCEPT1 with independent gas-powered drive

Thanks to its ease of installation and application, the CONCEPT1 is primarily suitable as a starting point in the field of automatic relubrication. It is available in 60 cm3 and 125 cm3 sizes and is powered via electrochemical reaction by a gas-producing dry cell, which means that an external power supply is not needed.
The CONCEPT1 is suitable for use in a wide range of applications, including electric motors, pumps, and belt conveyors. Thanks to its compact dimensions, it can be mounted in virtually any lubrication point. Furthermore, the CONCEPT1 is also certified for operation in explosion-proof areas (according to ATEX).
CONCEPT4 for demanding industrial applications

The CONCEPT4 is suitable for minimum-quantity lubrication, dispensing just 0.15 cm3 per actuation impulse. It was intentionally designed without an integrated timer for the lubricant dosage and without a display with control buttons, which makes it particularly robust in application. The CONCEPT4 is regulated solely via an external control unit and is thus aimed exclusively at customers who have an existing PLC infrastructure.
Unlike the CONCEPT1, the CONCEPT4 utilizes special lubricant cartridges (as do the CONCEPT2 and CONCEPT8). The CONCEPT4 lubricator, which utilizes cartridges with a standard size of 400 cm3 and has four outlets for lubricant supply lines, can also create particularly high delivery pressures of up to 70 bar. This ensures that lubricant reaches even hard-to-access points that require long lubricant supply lines, such as those found in electric motors, fans, pumps, gearboxes, compressors, and machine tools, for example.
An overview of Schaeffler's entire range of lubricators can be found at the following link: www.schaeffler.de/lubricators
Publisher: Schaeffler AG
Country: Germany
Share Page