One hub for product portfolio, online catalog and REPXPERT
Automotive Aftermarket launches new website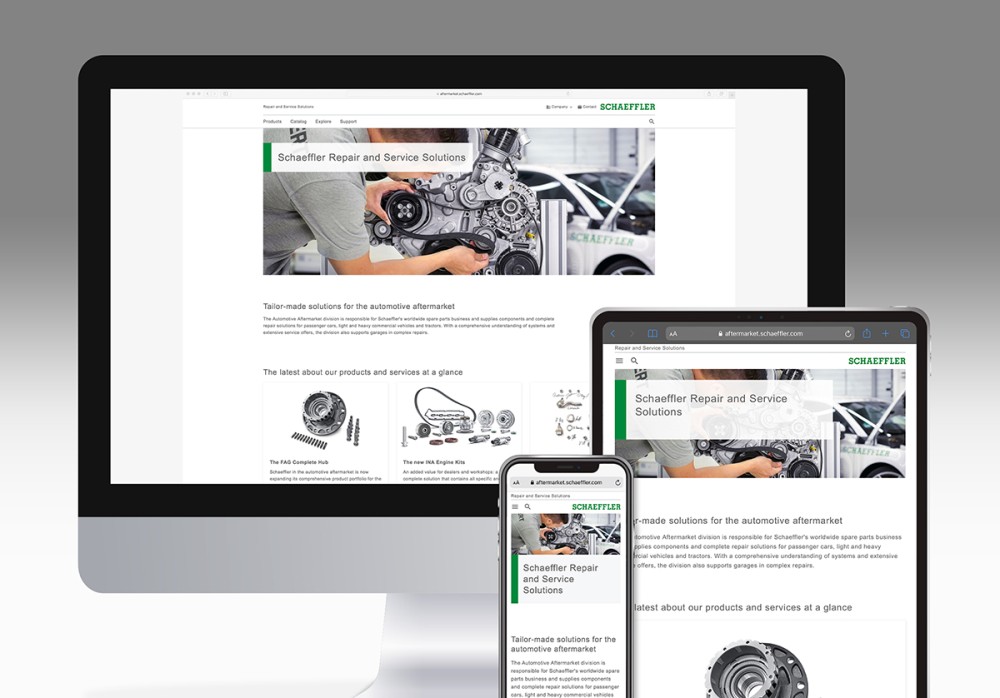 2021-01-13 | Langen
Website presents Schaeffler's entire aftermarket product range
Integrated online catalog enables search for up-to-date vehicle data in real time
Easy navigation thanks to clear and responsive design
Digitalization, consolidation, and structural changes are transforming the entire industry – the new website of Schaeffler's Automotive Aftermarket division takes the dynamic environment into account. "The new online presence is not only another milestone in our digitalization efforts, but also addresses the interests and needs of our customers in a target-oriented approach," says Jens Schueler, President Global Sales & Marketing, Schaeffler Automotive Aftermarket.
Under the subdomain https://aftermarket.schaeffler.com garage professionals and distribution partners will find a more extensive range of products and services than before. The focus is on the user. Simple navigation and a clear structure lead visitors to their desired content with just a few clicks. The main navigation focuses on what Schaeffler stands for: products, spare parts and services. Across all vehicle types, users can find general information about the market, the function, and relevance of a spare part, and can navigate deeper into the transmission, engine and chassis product categories. Here, the visitor receives detailed information about the products and repair solutions and can directly switch to the online catalog by entering an article number.
Added value for customers: spare parts catalog available online
Thanks to the newly developed and integrated online catalog, garages and distributors are always up-to-date and can specifically search for the latest vehicle-specific repair instructions and service information, the OE number or availability on article level. Finding the right spare part is quick and easy thanks to various search options. Another plus: Within the website, customers can easily navigate between the online catalog, product portfolio and the REPXPERT garage portal. In addition, the "Support" menu item provides answers to frequently asked questions – whether about the portfolio, ordering or shipping process, or services.
Quick, clear and responsive: across national borders
Apart from the complete content overhaul, the website has also been updated technically: it is easier to find via search engines and the responsive web design ensures optimal display on all devices. With a total of 13 languages and 15 local versions going online by the middle of this year, the company is focusing on country-specific tailored content and functions to further increase its global reach and brand awareness.
Publisher: Schaeffler Automotive Aftermarket GmbH & Co. KG
Country: Germany
Share Page