With OPTIME, Schaeffler provides user-friendly, automatic condition monitoring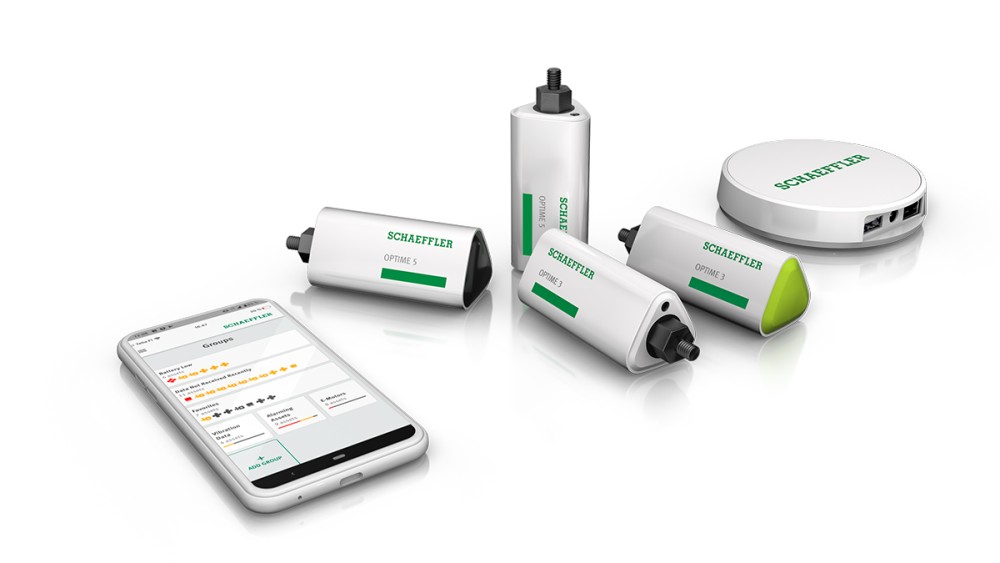 2021-04-13 | Schweinfurt
Schaeffler continues to expand 2020 IoT solution OPTIME
Automatic condition monitoring via smartphone app now also for applications with special requirements
Analytical system behind all Schaeffler condition monitoring solutions ensures long advance warning periods and specific recommendations for action
With OPTIME, customers reduce downtimes and increase the profitability of their machinery
With the introduction of OPTIME to the market in 2020, automotive and industrial supplier Schaeffler presented an innovative condition monitoring system for machines and systems. The system is easy to put into operation, can be used without any specialist knowledge, and is so economical that it pays off in large numbers. With the latest update, OPTIME now also integrates Schaeffler's condition monitoring systems (CMS) SmartCheck and ProLink. OPTIME therefore covers condition monitoring for a very wide range of machines and often even entire plants. "OPTIME provides meaningful analysis results which enable maintenance teams to act immediately. As a result, our customers reduce downtimes and increase the profitability of their machinery," says Rauli Hantikainen, Head of the Industry 4.0 Strategic Business Field.
Avoid downtimes, increase profitability
Particularly for companies operating in system-intensive process industries, avoiding unplanned downtimes means greater profitability. Via the smartphone or desktop app, customers with OPTIME have a constant eye on the status of their plant, even with hundreds of machines, as the messages are user-friendly and prioritized according to criticality. As a result, in-house maintenance personnel or even service companies can plan maintenance measures, personnel utilization, and the procurement of replacement parts in a timely and cost-efficient manner. They have the flexibility to decide whether they want to draw on other services and if so, which ones. The modular service concept offers online, remote or on-site services.
Condition monitoring can be easy
Users of digital services in the industrial environment also expect the information provided to be easily understood and the hardware and software to be uncomplicated to get around. Condition monitoring systems by Schaeffler can be used without needing extra qualifications because with the help of the Schaeffler know-how, the system configuration and data analysis are largely automated. This integrated knowledge is integral not only to the highly scalable OPTIME solution with wireless single-channel sensors, but also to the two systems for machines with dynamic speed and load conditions and involving environments with temperatures in excess of 85 degrees Celsius – the single-channel CMS SmartCheck and the multi-channel CMS ProLink. With condition monitoring solutions from Schaeffler, operators and maintenance personnel have an expert eye tracking the condition of practically every machine in the plant via the app.
Publisher: Schaeffler AG
Country: Germany
Share Page