Schaeffler at EMO 2021
Incremental angle measuring system added to portfolio of rotary axis bearings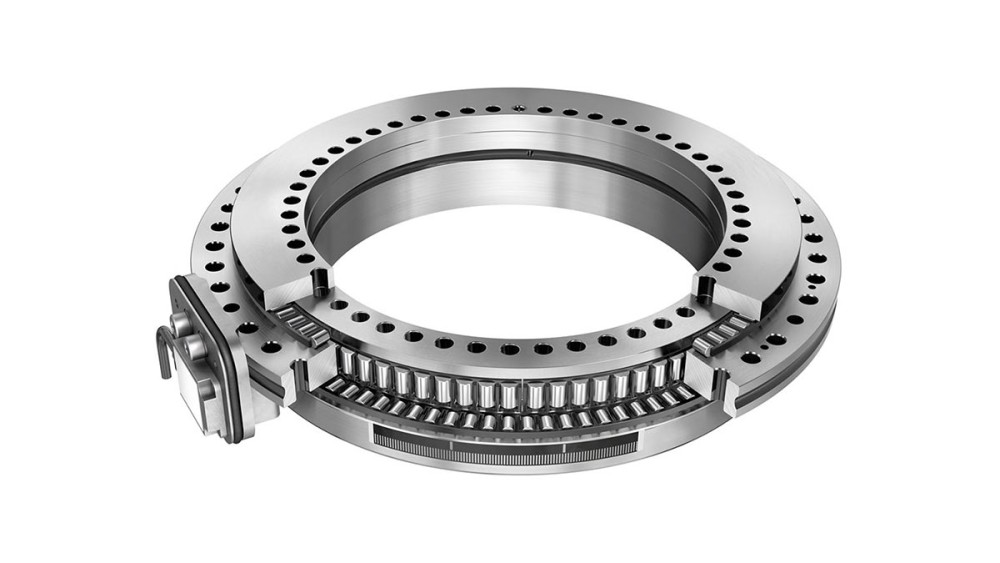 2021-07-26 | Schweinfurt
Angle measuring system fully integrated into rotary table bearing
Now available in both absolute and incremental variants
Analog interface supports data transmission via slip ring
Global automotive and industrial supplier Schaeffler is a leading provider of bearings and torque motors for driven axes and rotary tables. The company's longstanding dominance in this segment is a testament to its comprehensive and finely differentiated range of flexibly combinable products, which offer manufacturers an inexpensive way to develop rotary tables and axes with their own USPs. Schaeffler's rotary axis portfolio has long included an option featuring the AMOSIN® absolute angle measuring system. The addition of the AMOSIN® incremental angle measuring system now closes a gap by providing a solution for applications where absolute angle measurement is either unnecessary or impossible.
A bearing-integrated solution with multiple benefits
The dimensional scale component of the AMOSIN® angle measurement system is affixed to the inner bearing ring, and the measuring head is attached to the fixed outer ring. This design means that customers have zero additional engineering expenses when adapting the measuring system to their existing setup. Incorporating the dimensional scale into the bearing inner ring guarantees optimal radial runout accuracy and minimizes tilting of the scale when the axis is under mechanical load. Integrating the measuring system into the bearing also ensures maximum measurement accuracy. In other measurement systems placed outside the bearing, tilting of the axis has a negative impact on measurement, sometimes requiring complex compensating adjustments.
Because the AMOSIN® measuring system is fully integrated into the rotary table bearing, there is also no need to adjust the air gap between the dimensional scale and the measuring head. Manufacturing tolerances are set accordingly. Moreover, the measuring system is protected from contaminants – lubricants, in particular – and has good resistance to magnetic fields generated by direct drives.
Reliable data transmission in combined-axis setups
The incremental angle measurement system is equipped with a conventional 1Vss analog data interface and thus also supports applications where the positioning signal has to be transmitted via a second rotary axis using a slip ring. The advantage of this approach is that the analog voltage of the sinusoidal, incremental output signal ensures reliable transmission – even via slip rings – and hence reliable axis positioning.
Alternative to absolute angle measurement system
The incremental system has distance-coded reference marks. Thus, although the controller needs to do a reference run when first switched on, the run is very brief, as the scanner only needs to pass over the two reference marks. Once the reference run is complete, the absolute angle position is known and machining can commence. In practice, this extra step need not be a problem if the reference run is conducted at the same time as some other non-machining process, such as a lubrication run.
Symbiosis between bearing and measuring system
Schaeffler equips its YRTC series rotary axis bearings with the AMOSIN® incremental angle measuring system. These YRTCMI bearings (MI = Measuring System, Incremental) are axial radial bearings characterized by very high rigidity and low, uniform frictional torque. They also have excellent axial and radial runout accuracy. Thanks to this combination of properties, the YRTCMI bearings are especially well suited for use in gear hobbing machines and in high-load positioning and swivel-type axes in ultra-precision machining applications.
Source: AMOSIN® is a trademark owned by AMO GmbH.
Publisher: Schaeffler Technologies AG & Co. KG
Country: Germany
Share Page