Automechanika DIGITAL PLUS 2021
Schaeffler focuses on future-proof technologies, innovative repair solutions and services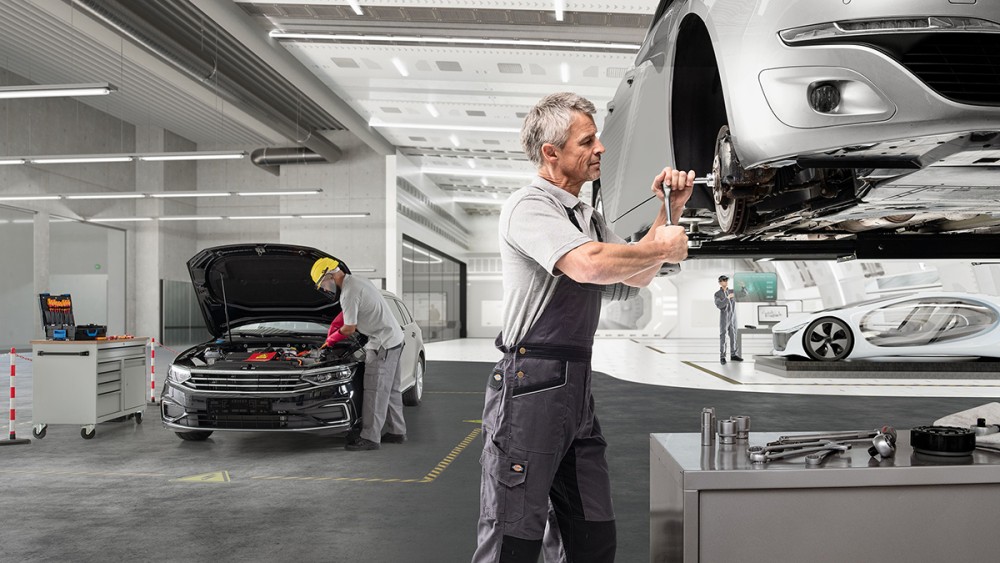 2021-07-29 | Langen
The Schaeffler division Automotive Aftermarket will have its own virtual showroom at this year's Automechanika DIGITAL PLUS
Schaeffler will present itself as a driving force for adapting next-generation technology for the independent automotive aftermarket
Another key area will be solutions like "Remote Support" that assist garages with their day-to-day operations in times of increasing complexity
The automotive aftermarket is undergoing a period of radical change. The megatrends digitalization and e-mobility have long since entered the automotive industry. Vehicles and parts are becoming more complex and the car service as such is changing. At Automechanika DIGITAL PLUS, which takes place from September 14–16, 2021, Schaeffler, as a leading global supplier to the automotive and industrial sectors, will provide answers to the key questions about the automotive aftermarket of the future: What impact will technological change have on the aftermarket business of the future? And how can garages continue to perform repairs professionally, profitably, and efficiently?
In its virtual showroom, the company will present itself as a supplier and partner that leverages new technologies to generate business opportunities for distributors and garages. "We are focusing on the need of our customers for profitable, future-proof repair solutions. Moreover, with us as their partner, garages will also be equipped to deliver a professional and profitable service in the future. Through our virtual trade fair exhibit we are set to prove that new media offer the automotive aftermarket excellent opportunities for interacting with our customers. But it's not just us who will benefit, because we are sharing our digital expertise with distributors and garages," says Jens Schüler, President GKAM, Global Sales and Marketing Schaeffler Automotive Aftermarket.
Market-centric and highly innovative
Within the scope of its digital exhibit, Schaeffler is focusing on two aspects: "market-centric" and "future-proof" solutions. Market-centric means identifying the needs of customers and offering tailor-made solutions, from our FAG-brand range of chassis parts and INA FEAD kits for combustion engines and hybrid systems to our LuK drivetrain repair solutions. The provision of future-proof solutions is equally important: "Schaeffler sees itself as a pioneer in times of fundamental changes in the industry. Our business has always been about bringing new technologies to the automotive aftermarket. At Automechanika DIGITAL PLUS we will show that as a Group we are already working on tomorrow's solutions in the form of products and services. We are not just offering the right products for our customers today but are also well equipped to handle the technological shift to electric mobility," Schüler continues.
Individual remote support
But that's not all. Schaeffler is also showcasing its "Remote Support", a solution that in the event of technical queries connects garages to the Schaeffler REPXPERT service in real time via smartphones or tablets. The remote support system transmits a live image from the garage to REPXPERT. This allows questions, e.g. on repair processes, to be answered step-by-step directly at the vehicle itself.
The Schaeffler booth in Hall 3 in Frankfurt will also provide insights into the remote support facility. Schaeffler has set up an engine on which visitors can replace a belt tensioner themselves with remote support from the Schaeffler REPXPERT service.
"Through this technology we are launching a solution that allows us to give the garage specific help in real time with the kind of complex questions that arise during a vehicle service," explains Schüler.
In the run-up to the start of the trade fair in September, Schaeffler will have a special "garage of tomorrow" theme on its website https://aftermarket.schaeffler.com/en. As of now the website will regularly feature new background stories and interviews with industry experts, garages, and specialists from Technical Service.
Publisher: Schaeffler Automotive Aftermarket GmbH & Co. KG
Country: Germany
Share Page