Schaeffler joins ARENA 2036 innovation network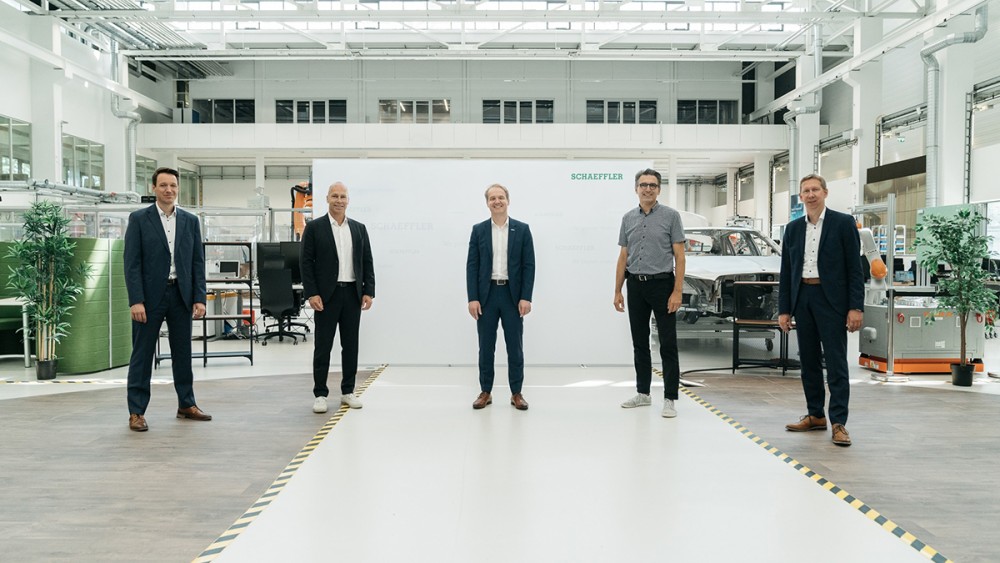 2021-07-30 | Herzogenaurach/Stuttgart
Schaeffler accelerates development of state-of-the-art production technologies
Network of over 40 partners from science and industry
Digitalization as the pathway to semi-autonomous production
Schaeffler has joined the ARENA 2036 research campus in Stuttgart, Germany, with a view to co-developing pioneering production technologies with partners from science and industry. Partnerships of this kind form a core element of the automotive and industrial supplier's "Roadmap 2025" strategic framework. "Excellence in manufacturing has always been the cornerstone of our business. It is what enables us to bring highly promising innovations to market quickly, at scale and in top quality," said Andreas Schick, Chief Operating Officer of Schaeffler AG. "Now, by bouncing ideas off others, working in an agile environment and engaging in close dialog with peers, we will be able to co-develop innovations in production technology and rapidly transition them into our production facilities. This new partnership will allow us to expand our manufacturing capabilities and help prepare the way for a clean and sustainable future."
ARENA 2036 is a collaborative research platform that brings together over 40 universities, research institutions and companies. It is located on the campus of the University of Stuttgart, Germany, where the partners work together in a flexible production facility that serves as an open co-creation space. The platform has a range of projects under way, aimed at developing and piloting the production technologies of tomorrow. The research focus is broad and includes adaptive production processes as well as various approaches to digitalizing production, including digital twins, 5G, artificial intelligence and big data.
Faster commercialization of innovations
To facilitate close dialog with its network partners, Schaeffler will have at least two employees based on site at ARENA 2036, although the exact number at any one time will vary according to project requirements. "ARENA 2036 is an opportunity to work with other companies, startups and research institutions to evaluate and realize potential innovations rapidly and effectively," said Thomas Krämer, Head of Advanced Production Technology at Schaeffler. "We can use the resources available at the production facility and benefit from close knowledge networking with other partners on site. Our focus at the moment is on hothousing pilot projects for smart safety concepts, flexible handling solutions and intelligent machine networks." Digitalization in particular is a key part of Schaeffler's strategy for improving the efficiency of its processes. Inspired by the prospect of tomorrow's sustainable digitalized factories, Schaeffler has set its sights on digitally integrating its production plants and machines and giving its employees access to state-of-the-art IT systems, including the digital collaboration and communication tools needed for agile and efficient teamwork. "ARENA 2036 perfectly complements the projects and initiatives we are pursuing in our own factories," said Roberto Henkel, Head of Digitalization and Operations IT at Schaeffler. "Digitalization of production presents multiple opportunities for boosting efficiency and agility in our plants and for taking our excellence in manufacturing to a whole new level."
The partnership with ARENA 2036 is one of many initiatives in which Schaeffler is partnering with research institutions, startups and other innovative companies. For example, in March this year, the automotive and industrial supplier became an anchor partner of STARTUP AUTOBAHN, which is itself part of ARENA 2036. Schaeffler has been a member of the Plug and Play partner ecosystem since 2018, and as long ago as 2017 it established an office in Silicon Valley to facilitate technology scouting and sourcing. The company is also involved in high-level collaborations with leading universities worldwide via the SHARE program.
Publisher: Schaeffler AG
Country: Germany
Share Page