Railway Forum 2021
Schaeffler wins Railsponsible Supplier Award 2021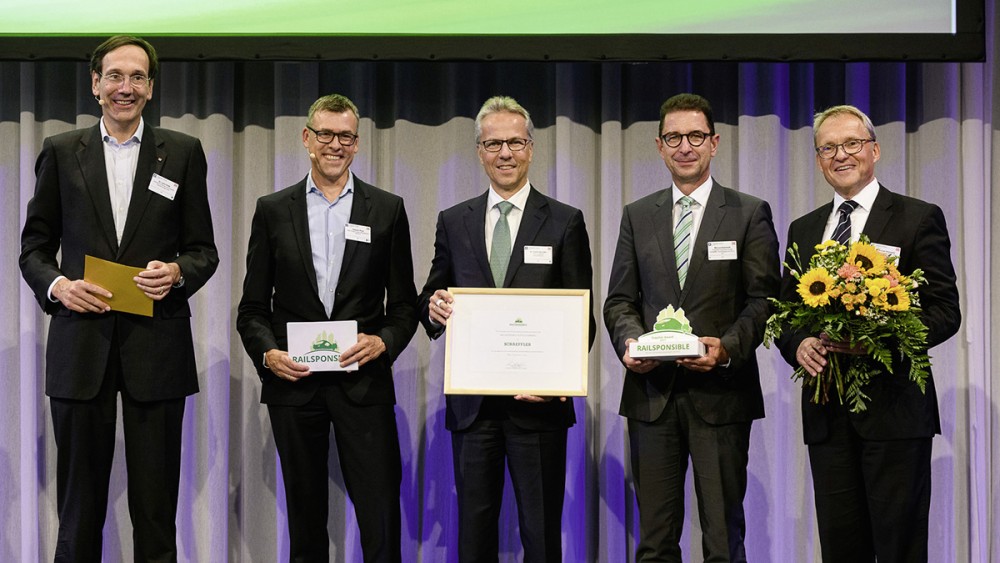 2021-09-09 | Schweinfurt/Berlin
Railsponsible is a leading railway industry initiative for sustainable sourcing
Award marks "European Year of Rail" by honoring active contributions to climate protection
Schaeffler wins in "Climate Change and Circular Economy" category with its 100 percent return service for axlebox bearings
Schaeffler, the world's leading automotive and industrial supplier, has received the Railsponsible Supplier Award 2021 in the "Climate Change and Circular Economy" category for its 100 percent return service for axlebox bearings. The award was presented at the 2021 Railway Forum, Europe's top railway industry conference, in Berlin. Railsponsible is a sustainability initiative by the railway industry that fosters and celebrates outstanding environmental and social practices on the part of suppliers.
Dr. Stefan Spindler, CEO Industrial at Schaeffler, accepted the award on behalf of the company from Dr. Levin Holle, CFO of Deutsche Bahn AG, in Berlin on September 7. "Our 100 percent return service makes sense both environmentally and commercially," he told the audience. "It combines our proven technology for reconditioning rolling bearings with the latest advances in data exchange and the use of digital twins."
Double benefit: Reconditioning bearings reduces both costs and CO2 emissions
The 100 percent return service for axlebox bearings enables rail transport operators to significantly increase the availability of their rail vehicles, while maximizing mileage and hence reducing CO2 emissions.
As part of this service, Schaeffler carries stocks of reconditioned spares, combining the cost savings from bearing reconditioning and reuse with the time savings made possible through immediate availability.
Using reconditioned axlebox bearings is much less resource and carbon intensive than manufacturing new bearings. Specifically, it cuts CO2 emissions by over 95 percent, energy consumption by 94 percent, and water consumption by 96 percent. For example, in a freight train with 80 wagons, two locomotives and 1,296 axlebox bearings, this circular approach saves 133 metric tons of CO2, 481 MWh of energy and 1,767 m³ of water.
Data matrix code is the key to digitalized condition-based maintenance
Central to Schaeffler's 100 percent return service is a unique data matrix code (DMC) that is etched onto each axlebox bearing during manufacturing. The DMC can be used to capture important manufacturing, operating and maintenance data for each product over the course of its service life, creating a comprehensive digital twin.
Thanks to their special design, Schaeffler axlebox bearings have the potential to operate for very long periods between maintenance runs. The digital twin is the key to realizing this potential, enabling condition-based maintenance, which in turn means better operational safety and reliability.
Publisher: Schaeffler Technologies AG & Co. KG
Country: Germany
Share Page