REPXPERT 3.0 - Schaeffler takes successful garage portal to a next level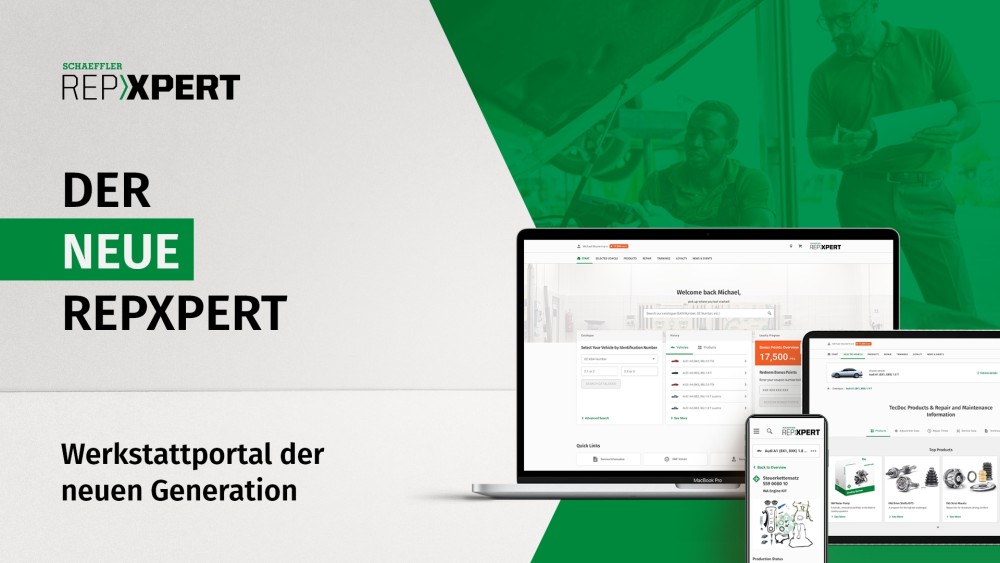 2021-10-13 | Langen
Garages get faster access to more in-depth technical content
New look for Schaeffler's online portal for independent garages
Personalized dashboard, clear navigation and intuitive search optimize user experience
Five years ago, the current version of Schaeffler's garage portal REPXPERT was successfully launched. Since then, REPXPERT has developed into a strong brand in the automotive aftermarket and bundles all garage-oriented services at Schaeffler. Currently, around 200,000 users from 36 country portals in 16 languages access REPXPERT. To structure the amount of information more clearly and make the website frontend more user-friendly, Schaeffler has relaunched its garage portal and raised it to a new level. With the new version, REPXPERT 3.0, Schaeffler makes everyday work easier for garages. The next-generation garage portal is intuitive to use, guides users quickly to the topics they are looking for and offers more technical content than ever before – already on the homepage.
Navigate fast with the personalized dashboard
Extensive technical information and repair data, an overview of training courses, news and events are available to every website visitor. Registered users have even more functions on hand: they can access the complete aftermarket parts catalog with all manufacturer data and see their latest activities, such as recently selected products or vehicles. The personalized entry with an individual dashboard shows all relevant areas immediately. The revised navigation menu and the new global search function within catalog and technical information quickly leads to the desired REPXPERT content. Garages have also access to the bonus program, the complete range of repair data including vehicle-specific repair and maintenance information (RMI) from TecAlliance and can register for training courses.
"Through close exchange with garages worldwide, we have received very good suggestions. Many of these we were able to implement with version 3.0 to offer our users an even better experience and, above all, more technical information," explains Sven Olev Müller, Head of Schaeffler REPXPERT Garage Services.
More content to make everyday garage work easier
The integrated parts catalog continues to offer the entire product range of all aftermarket manufacturers for free and now allows for easier access to the extensive repair and maintenance information (RMI). New is the fact that Schaeffler product data is now getting updated daily.
In the newly designed training area, numerous REPXPERT training courses provide interested garages with extensive theoretical and practical knowledge: classroom training courses, online training courses and e-learning courses can either be accessed directly or booked via an integrated calendar with online registration. On top, REPXPERT 3.0 offers more in-depth technical information that is continuously expanded, such as installation videos, step-by-step instructions, garage tips and help with typical fitting errors.
Publisher: Schaeffler Automotive Aftermarket GmbH & Co. KG
Country: Germany
Share Page