Precise and cost-effective alignment of shafts thanks to new LASER-EQUILIGN2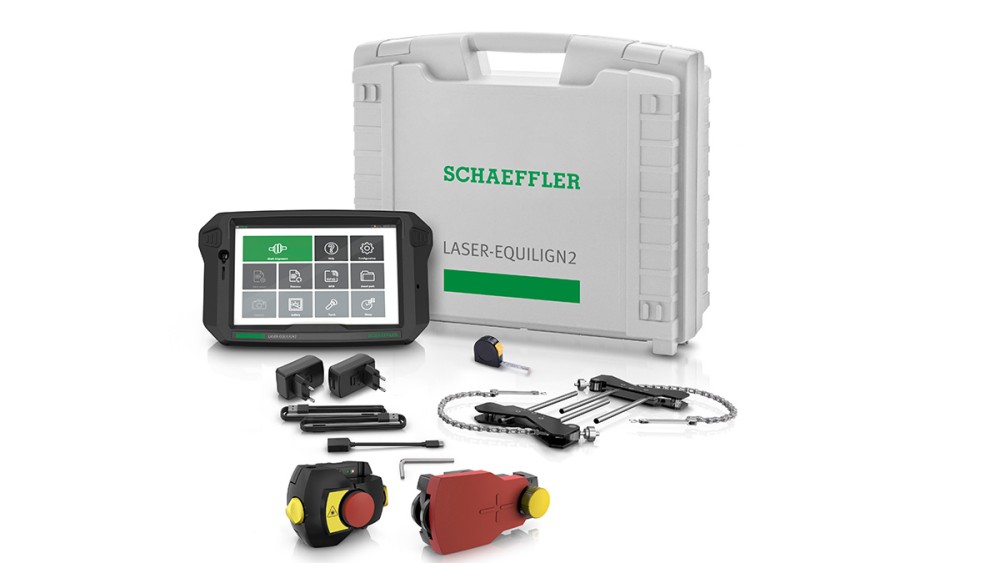 2021-11-03 | Schweinfurt
Schaeffler continues to expand its range of innovative mounting tools
The new LASER-EQUILIGN2 alignment tool meets the highest requirements for user-friendliness when aligning shafts
High energy efficiency and lower operating costs thanks to precise shaft alignment
If the shafts in pumps, compressors or gearboxes are not aligned with each other, this results in higher energy consumption and increased machine wear and can lead to unplanned downtimes. On the basis of the innovative single laser technology, Schaeffler, one of the world's leading automotive and industrial suppliers, is now bringing the LASER-EQUILIGN2 alignment tool onto the market, an innovative system for aligning rotating shafts – for the highest levels of machine performance and availability as well as lower operating costs.
A fast and precise solution for maintenance technicians
The misalignment of shafts is a big problem for the operation of all types of machines. The temperature in couplings, bearings, grease, and motors increases and the machine or vehicle consumes more energy. Ultimately, the additional friction leads to significantly increased wear and may even cause shaft fractures and the total failure of systems and machines.
The LASER-EQUILIGN2 from Schaeffler enables the precise alignment of shafts and a significant reduction in work for maintenance technicians. This alignment tool can be deployed quickly and extremely precisely due to its single laser technology. The non-verbal user interface with 8" TFT display and capacitive touchscreen (can be operated wearing suitable gloves) enables intuitive, user-friendly operation. The four-point measurement permits very high measurement accuracy.
Greater energy efficiency saves money and resources
In contrast to the conventional double laser technology in which two laser/sensor units must be aligned with each other, only one laser/sensor unit and a reflector are used in single laser technology. The single laser is simply aligned with the reflector. This increases the usability and provides maintenance technicians with precise measurement results.
The LASER-EQUILIGN2 is not only cost-effective but also sustainable and resource-conserving because it shortens downtimes due to faster maintenance and reduces the amount of repair work resulting from imbalances. Even with an assumed energy reduction of just one percent, electricity cost savings of several thousand euros can be achieved annually depending on the performance and number of machines.
Publisher: Schaeffler Technologies AG & Co. KG
Country: Germany
Share Page