Schaeffler PREMESY
Innovative monitoring system ensures longer service life for rotors and reduced downtimes in wind turbines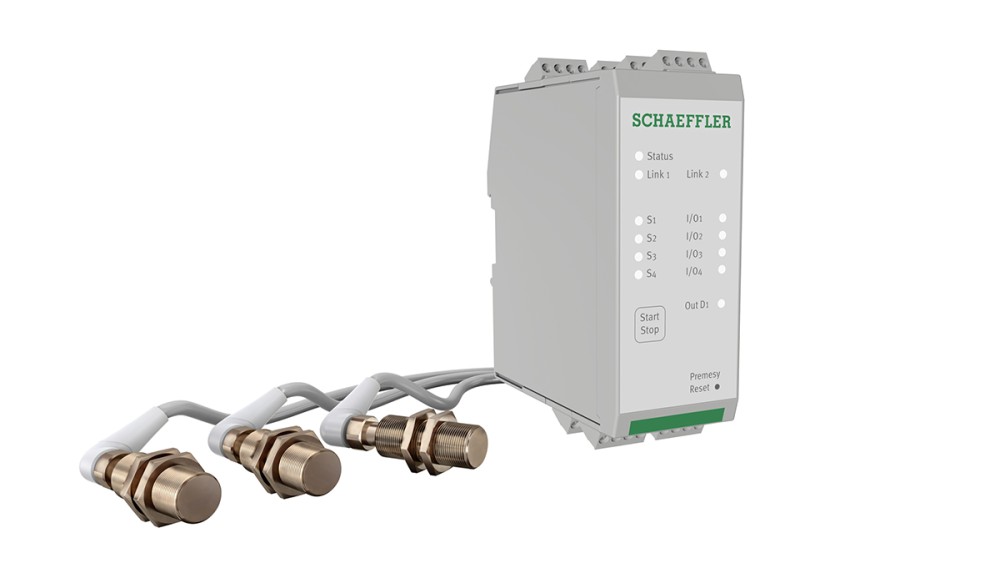 2021-12-14 | Schweinfurt
Schaeffler PREMESY monitors bearing preload in wind turbines during assembly and operation
High-precision, digital distance sensors and a monitoring unit are key components of the system
Continuous monitoring makes it possible to implement predictive maintenance
The rotor shaft bearing support plays a key role in wind turbines. All the forces generated by the wind directly act on these bearings. The rolling bearings are subjected to highly dynamic loads and operating conditions. If the main bearing fails, it results in unscheduled downtime for the entire wind turbine with production losses and high follow-up costs. This is where the newly developed PREMESY preload measuring system from Schaeffler comes into play.
Adjusted bearing arrangements are commonly used in modern multi-megawatt wind turbines. This design of bearing offers a high level of reliability coupled with long service times. What is important, however, is that the bearing preload is set as precisely as possible at the assembly stage as well as during operation. The optimum configuration of this preload is determined during the design process on the basis of complex calculations using the finite element method. In practice, however, these settings are rarely checked, if at all, especially after assembly. Any deviations from the bearing preload defined during the design phase are then only identified if the bearings prematurely fail while in operation.
Schaeffler PREMESY is the first and only digital system of its kind on the market. It monitors bearing preload at the time of assembly as well as during operation.
The system is based on high-precision, digital distance sensors, which are monitored by a central unit that is easy to integrate. PREMESY therefore provides the basis for predictive maintenance, since the factors most likely to cause failures can be monitored.
Continuous monitoring prevents failures and high associated costs
Unplanned failures in wind turbine systems can result in extremely high costs. Besides production losses for several days or even weeks, the repair costs – especially for offshore plants – can be between 500,000 euros and 1,000,000 euros.
"Correctly adjusting and monitoring bearing preload is extremely complicated without using PREMESY," explains Benedikt Neugebauer, expert from the Wind Energy Regional Business Unit at Schaeffler. "If the preload is too high, service life decreases significantly and, in extreme cases, the bearing can overheat. If the preload is too low, it interferes with the smooth kinematic behaviour of the rolling bearings, which can lead to a premature failure of the bearing and, in turn, the entire wind turbine. PREMESY helps to ensure that wind turbines operate without interruption, thereby making a significant contribution towards reliable energy production."
Ahead of the current market launch, PREMESY has already received industry recognition. At the beginning of November 2021, this innovative system won the "Smart Technology Innovation of the Year" category at the Wind Future Awards, organised by the Association of Southeast Asian Nations (ASEAN).
Find out more via this link: Premesy | Schaeffler medias
Publisher: Schaeffler AG
Country: Germany
Share Page