Start-up truckoo new partner on REPXPERT
Schaeffler and truckoo cooperate on digital commercial vehicle sales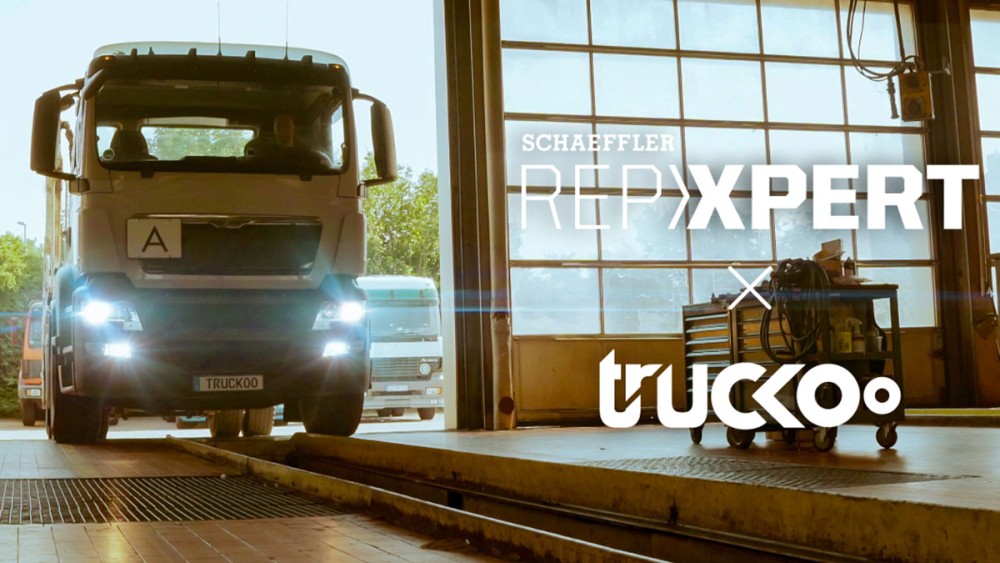 2022-03-15 | Langen
Goal of the partnership: Drive digitalization in commercial vehicle garages and initiate progress
Additional business potential and bonus points for REPXPERT partner garages that register on truckoo
Cooperation valid for garages in Germany, Austria, and Switzerland
The Automotive Aftermarket division of the industrial and automotive supplier Schaeffler and the tech start-up truckoo based in Munich are cooperating to make the buying and selling of light and heavy commercial vehicles more efficient, transparent, and digital. REPXPERT partner garages that register on truckoo.com can now become part of truckoo's international network and act as digital buying and selling point for commercial vehicles. Once a customer wants to sell his vehicle, a trusted partner garage handles the inspection according to a standardized procedure via the specifically developed truckoo app. In the next step, the vehicle is offered in real time to potential buyers in 27 countries including a digital condition report. If a customer is interested and requests necessary repairs, Schaeffler offers a broad product portfolio of repair solutions for transmission, engine, and chassis especially for commercial vehicles. The final sales process, from vehicle deregistration to handover and payment, is handled by truckoo.
A win-win situation for garages – without much effort, they gain new customer groups and build up a profitable side business thanks to the truckoo partnership. In addition, REPXPERT partner garages from Germany, Austria, and Switzerland receive REPXPERT bonus points by registering on truckoo.
Common goal: Supporting garages with digital tools
"In the commercial vehicle industry, it is common practice for garages to handle the process of buying and selling of used commercial vehicles," says Samuel Braun, Product Manager Heavy Commercial Vehicles at Schaeffler Automotive Aftermarket. According to a REPXPERT survey from last year, more than 60 percent of commercial vehicle garages that are registered on REPXPERT have been asked by their customers at least once. "Since we see ourselves not only as a supplier, but more importantly as a partner to the garages, we want to give them everything they need to make them more successful. Now, in partnership with truckoo, we can support them in digital sales," says Braun. Julia Unützer, founder of truckoo, adds: "Together with our partner garages, truckoo is the first digital network for easy and secure commercial vehicle sales. The effort for the garages is small, but the benefits are big. Without becoming dealers by themselves, garages can expand their service offering, earn a little extra and benefit from new customers."
Digital commercial vehicle sales via truckoo have many advantages: Used vehicles do not suffer unnecessary damage due to long downtime. The sales process becomes efficient, transparent and resource-saving. In addition, the vehicles operate where they are most useful according to their different setups and specifications – even in a second, third, or fourth service life across several countries. The sustainable use of commercial vehicles also plays a major role in achieving climate targets, as high-quality spare parts help to maintain the quality of vehicles and thus reduce excessive CO2 emissions during vehicle operation.
REPXPERT brings comprehensive services into the cooperation
As a strong partner for garages, Schaeffler brings in comprehensive system understanding and technical expertise to the cooperation. "Our product brands and repair solutions in original equipment quality make a significant contribution to reducing downtimes," says Braun. With its LuK, INA and FAG brands, Schaeffler is one of the world's leading series suppliers and technology partners to commercial vehicle manufacturers. But it's not just the products and repair solutions that are crucial – with its REPXPERT service brand, Schaeffler offers comprehensive support for everyday garage routine. Technical training, service hotline, special tools, repair instructions and videos, or tips on all aspects of assembly – all of it is available at any time via the online portal or mobile app and help garage professionals keep their technical knowledge up to date.
About truckoo
Munich-based start-up truckoo, founded at the end of 2019, is the first international purchasing platform for commercial vehicles with the aim of making sales fast, easy, and secure. More than 160 garages are already partners, starting the sales process for their customers – with a brief assessment of the vehicle's condition using the truckoo app. This allows the international group of buyers to purchase vehicles digitally without much effort.
Registered users can find all information about the REPXPERT garage portal and the cooperation with truckoo at www.repxpert.com.
Publisher: Schaeffler Automotive Aftermarket GmbH & Co. KG
Country: Germany
Share Page