Expansion of digital services in the automotive aftermarket
Schaeffler OneCode makes product information digitally available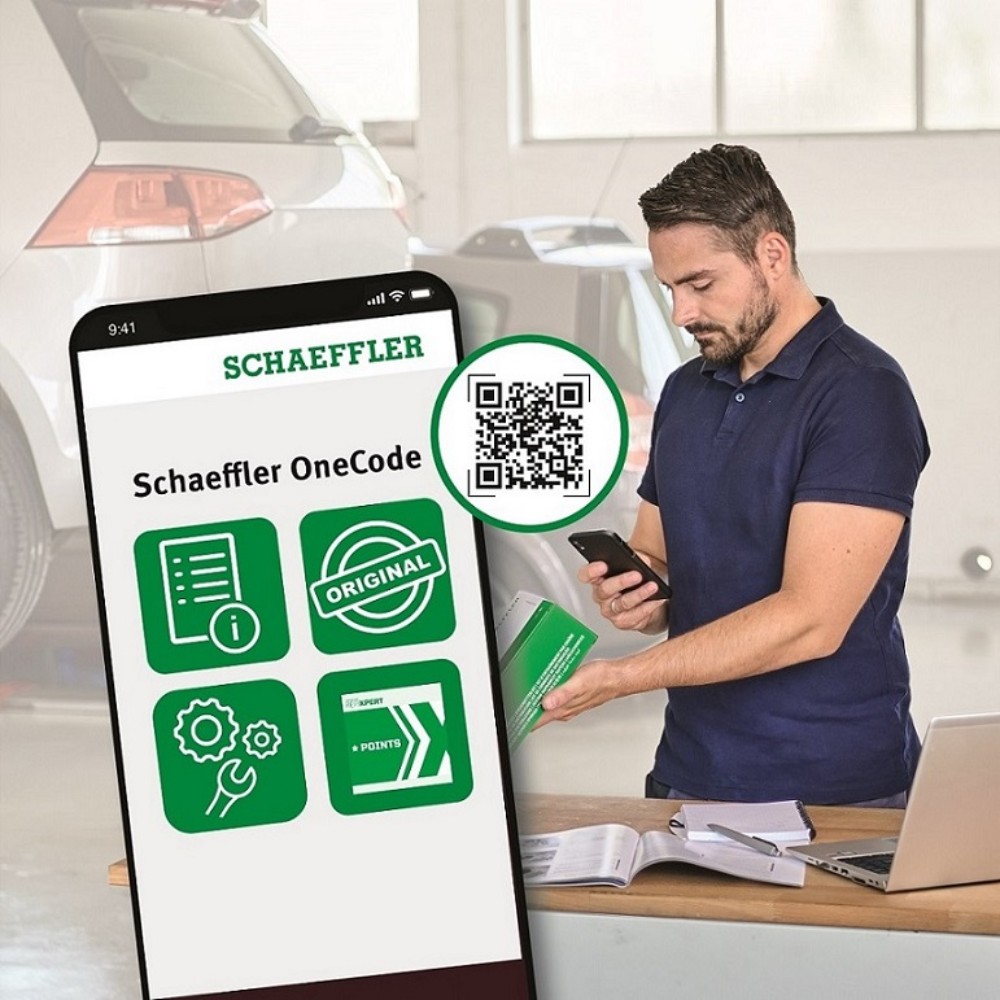 2022-07-19 | Frankfurt
Schaeffler OneCode can now be found on all boxes of Schaeffler repair solutions
Product information for over 40,000 items can be accessed by scanning a QR code
Simple, digital way for garages to check the authenticity of an article and collect bonus points
With the newly introduced Schaeffler OneCode the Automotive Aftermarket division of automotive and industrial supplier Schaeffler has developed a service solution that supports garages throughout Europe. In the future, all product related information about Schaeffler's repair solutions will be digitally available with just one smartphone or tablet scan.
The new Schaeffler OneCode is a QR code placed on the outside of the Automotive Aftermarket division's packaging. The code consists of a combination of the product number with a unique serial number for the respective LuK, INA or FAG product. This makes each item uniquely identifiable.
"With the Schaeffler OneCode, we are further expanding our digital product and service offerings. Garages receive valuable additional information and services with just one scan," says Dr. Robert Felger, President Product Management and Research and Development at Schaeffler Automotive Aftermarket.
Using the Schaeffler OneCode is simple: By scanning it with a QR code-reading device, such as a smartphone, the user is led to the product page in the Schaeffler online catalog or the REPXPERT app. Here, they can find all product information about the repair solution at hand - updated daily for more than 40,000 items. Step-by-step installation manuals and repair instructions are available digitally, without long searches or scrolling.
Product authenticity check and digital bonus points
The Schaeffler OneCode also checks the authenticity of the product. This creates additional security for retailers and garages and leaves no room for counterfeit products. For REPXPERT users, collecting the popularREPXPERT bonus points is now even easier via the Schaeffler OneCode. With just one click, they can redeem points and convert them into attractive rewards.
No smartphone? No problem
The Schaeffler OneCode can also be used without a QR code-reading device. Manual entry in the REPXPERT-App or at scan.schaeffler.com is also possible - even if the QR code is damaged or unreadable.
Publisher: Schaeffler Automotive Aftermarket GmbH & Co. KG
Country: Germany
Share Page