Schaeffler at the AMB 2022, Hall C2, Booth E21
Schaeffler supplements bearing portfolio with angular measuring system for high speed rotary tables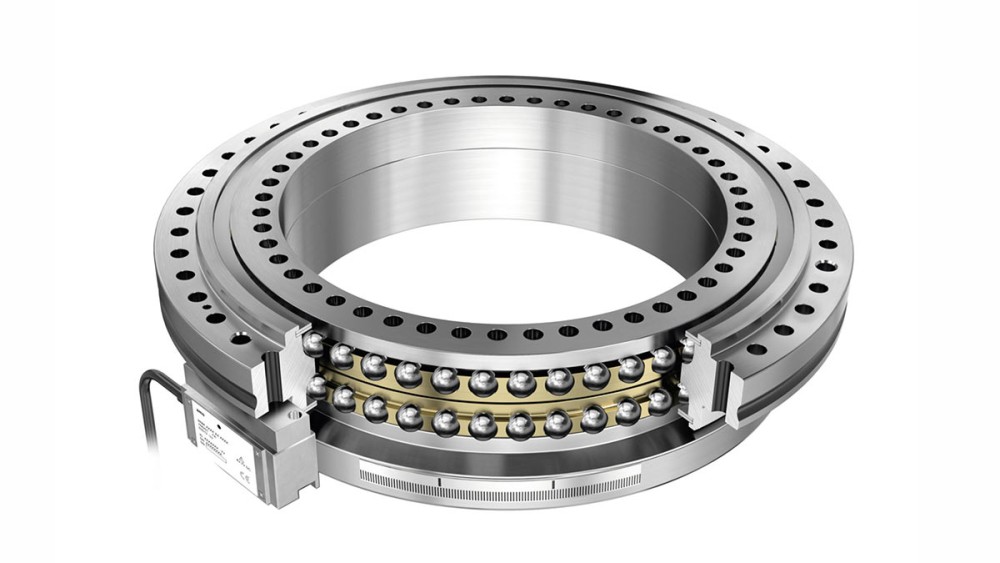 2022-09-13 | Schweinfurt/Stuttgart
Incremental angular measuring system now optionally available for ZKLDF-series axial angular contact ball bearings
Angular measuring system integrated into the rotary table bearing support offers very high accuracy and extremely easy mounting
No restrictions on the hollow shaft diameter even with measuring system
Schaeffler is presenting its ZKLDF-series axial angular contact ball bearings with an optional integral, incremental angular measuring system (ZKLDFMI) at the AMB 2022 in Stuttgart. Due to their suitability for very high speeds, low breakaway torque, and low friction levels, ZKLDF-type bearings are preferably used in high speed machine tools for machining non-ferrous metals, plastics, and wood. Highly dynamic rotary indexing tables in industrial automation are also a preferred area of application. Because ZKLDF bearings in rotary axes are almost always combined with direct drives, the integration of an angular measuring system was a logical step. As with all the other angular measuring systems from Schaeffler for the machine tool sector, an inductive AMOSIN® angular measuring system is also used in ZKLDFMI bearings.
A bearing-integrated solution with multiple benefits
The dimensional scale of AMOSIN® angular measuring systems is affixed to the precision ground and perfectly true-running bearing inner ring. The greatest possible measurement accuracy is achieved by positioning the measuring system in the bearing plane. The measuring head is screw mounted directly to the stationary bearing outer ring. The inductive measuring system is particularly resistant to lubricants and magnetic fields. The maximum speed of the ZKLDF bearing can be fully utilized due to the high output frequency of the incremental measuring head. The central passage is not influenced by the measuring system, which ensures design freedom for the media feed-throughs.
The incremental system has distance-coded reference marks. Thus, although the controller needs to do a reference run when first switched on, the run is very brief, as the scanner only needs to pass over the two reference marks. Once the reference run is complete, the absolute angle position is known and machining can commence.
Publisher: Schaeffler AG
Country: Germany
Share Page