Schaeffler at WindEnergy Hamburg 2022 (Hall B5, Booth 333)
Compact, robust, and good for the carbon footprint: Schaeffler tapered roller bearings for rotor shafts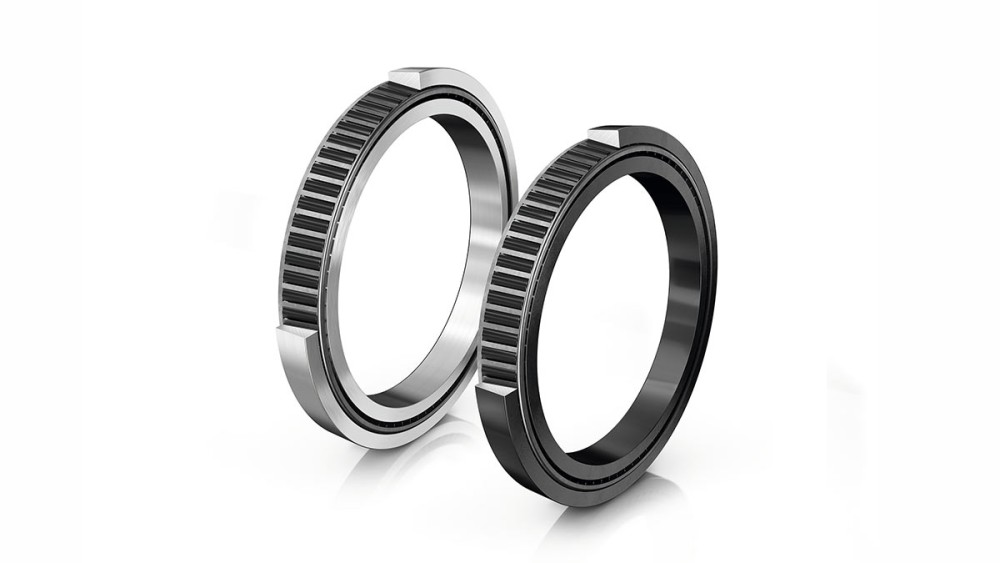 2022-09-27 | Schweinfurt/Hamburg
Adjusted bearing arrangement with tapered roller bearings reduces installation space and weight
Application, design, simulation, and monitoring know-how ensures reliable functioning
Seamless induction hardening offers optimum carbon footprint
An adjusted bearing arrangement with two tapered roller bearings in O-arrangement is increasingly being used for wind turbines with an output of greater than about 6 MW. The large support spacing in this bearing arrangement leads to a considerable reduction in internal bearing forces, which conversely enables a smaller and lighter bearing arrangement design. The demand for power density is thus ideally met.
Three pillars for the reliable operation of adjusted bearing arrangements
At Schaeffler, reliable functioning of adjusted bearing arrangements is based on three pillars: the validated design kit for roller bearings, the system simulation with various levels of detail, and the Premesy preload measurement system.
The design kit for the support of the rotor shaft with adjusted tapered roller bearings contains various cage, material, and heat treatment variants as well as application-relevant coating concepts. With it, the tapered roller bearings can be optimally designed for the customer-specific surrounding construction and the operating conditions.
The bearing arrangement is optimized in multiple stages using simulation tools that take the relevant overall system parameters into account. External factors such as deformation of adjacent components and temperatures, which can especially be decisive for adjusted bearing arrangements of this size, are taken into consideration. Once the bearing and system designs have been refined, the correct preload and its geometric input parameters are determined.
Schaeffler offers the Premesy preload measurement system to allow the determined preload to be reliably set during installation and monitored during operation. This solution is based on inductive distance measurements along the circumference of the bearing arrangement and enables monitoring of the lifetime-critical bearing preload at any point in time during the life cycle of the drivetrain.
Improved carbon footprint: Tapered roller bearings seamless induction-hardened
To achieve a significant reduction in the carbon footprint of rolling bearings, Schaeffler realizes carbon savings potential along the entire value chain – from the purchasing of the steel and the manufacturing methods to logistics and packaging. For example, Schaeffler integrated seamless induction hardening into its design kit for manufacturing of large tapered roller bearings a few years ago. Induction hardening uses green electricity to heat up the bearing rings in localized regions only and thus offers an optimal carbon footprint.
In a tapered roller bearing that will be shown at WindEnergy, for example, the carbon footprint is reduced by a total of around 70 percent from originally approx. 5.0 kg CO₂/kg bearing to approx. 1.5 kg CO₂/kg bearing.
Schaeffler's own production will already be climate-neutral from 2030 onward. Schaeffler also plans to achieve climate neutrality in the supply chain by 2040.
Publisher: Schaeffler Technologies AG & Co. KG
Country: Germany
Share Page