Schaeffler celebrates ten years of SHARE at the Karlsruhe Institute of Technology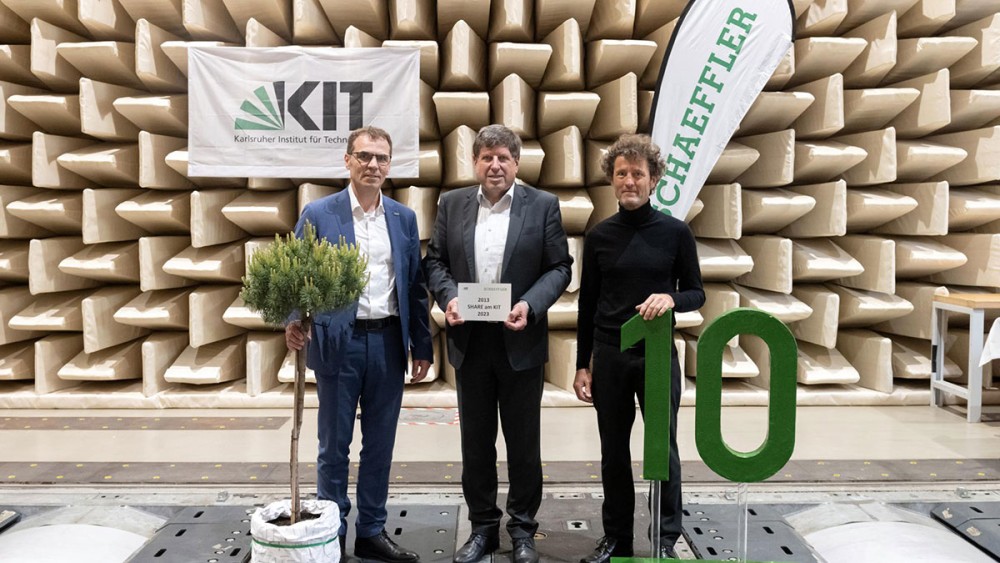 2023-05-11 | Karlsruhe
For ten years, Schaeffler and the Karlsruhe Institute of Technology (KIT) have been promoting mobility solutions as part of the SHARE concept
Around 80 researchers are working on projects in the fields of electric drives, battery storage systems, hydrogen technologies or automated vehicles
As an innovation network, Schaeffler Hubs for Advanced Research (SHARE) are already operating at five leading universities worldwide
Global automotive and industrial supplier Schaeffler has celebrated ten years of collaboration with the Karlsruhe Institute of Technology (KIT) on the Schaeffler Hub for Advanced Research at KIT (SHARE at KIT). Here, Schaeffler employees work with KIT scientists, doctoral candidates and students in areas such as electric drives, battery storage systems, hydrogen technologies, and automated vehicles. The insights from the application-driven research projects flow directly into the development of new products. The SHARE network at the KIT comprises around 80 permanent employees of Schaeffler and KIT as well as doctoral candidates and students, who are currently working on around 20 projects. These projects are often publicly funded and involve working with other companies and research institutions.
"Schaeffler is shaping the transformation towards sustainable mobility with innovative technologies. To this end, applied research with strong partners like the Karlsruhe Institute of Technology provide a crucial basis. I would like to thank all participants for the successful collaboration and trust-based partnership over the last ten years. Together, we have accomplished pioneering work," says Uwe Wagner, Chief Technology Officer at Schaeffler AG, addressing the 150 participants during the anniversary celebration. The SHARE program is an important pillar of Schaeffler's innovation strategy and accelerates the innovation process. "The agile environment and the impetus from research ensure that we can quickly transfer the results of innovation projects into viable products and put them on the market in optimum quality and large volumes."
In the context of SHARE at KIT, for example, significant progress was made with research projects into fuel cells. In the summer of 2022, Schaeffler joined forces with Symbio to establish the joint venture "Innoplate" to manufacture and mass produce bipolar plates for fuel cells.
Global SHARE network
The first SHARE was set up at KIT in 2013. The program has become established worldwide and is meanwhile represented at five leading universities in Europe, Asia-Pacific, China, and America. Each SHARE focuses on key strategic topics at Schaeffler. The development activities are aligned with "6+2 innovation clusters". These stand for the six product innovation clusters Energy Solutions, Digital Solutions, Robotic Solutions, Mobility Solutions, eDrive Solutions and Material Solutions, as well as the two production innovation clusters Advanced Manufacturing and New Production Concepts.
You can find a press photo of Uwe Wagner here:
http://www.schaeffler.com/en/executive-board
Publisher: Schaeffler AG
Country: Germany
Share Page