Schaeffler at EMO 2023, Hall 7, Booth A10
Schaeffler presents new precision gearboxes and drives for machine tools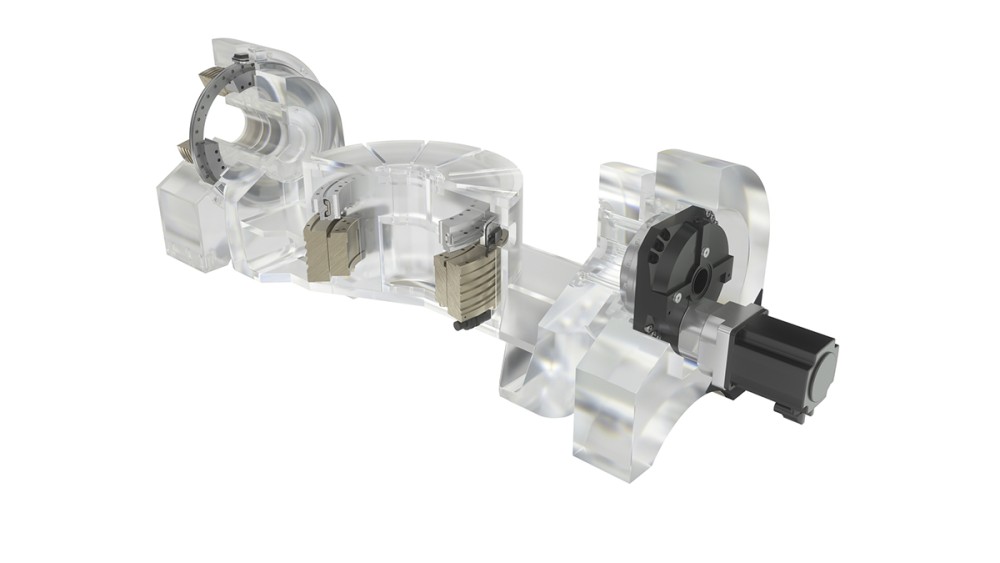 2023-09-18 | Schweinfurt
Schaeffler expands its range of precision bearings and direct drives for machine tools
New in the portfolio: Series for precision strain wave gears and precision planetary gearboxes
Use of precision gearboxes in the C and A axes of milling heads, in milling tables, and in swiveling rotary tables
Within just a few years, Schaeffler has expanded its range of precision bearings and direct drives for machine tools to include two types of precision gear unit – precision strain wave gear series RT1 and RT2, and precision planetary gearbox series PSC. While the RT strain wave gears cover a maximum torque range of 28 to 484 Nm across five sizes, the PSC gearboxes start at 327 Nm, with the smallest gear size of 030, and end at 5000 Nm. Courtesy of the overlap in series between 327 and 484 Nm, machine manufacturers have the option of selecting the gearbox design and size that best suits their requirements profile.
Precision strain wave gears in machining heads for wood, plastic, and light metal
Precision strain wave gears of series RT1 and RT2 are particularly suitable for driving small swivel axes, for use in the A axes of milling heads, and for driving milling tables used in the machining of light metals, wood materials, and plastics. Schaeffler also completes the RT1 series of precision strain wave gears to customer specifications with suitable motors and rotary encoders, to create ready-to-fit drive units. A precision strain wave gear with integrated torque sensor system is also available in the form of series RT1-T. XZU-series angular contact needle roller bearings provide an especially high-stiffness support solution for output shafts.
Precision planetary gearboxes: virtually backlash-free and particularly durable
The compact dimensions, high rigidity, and hollow shaft of PSC-series precision planetary gearboxes render them suitable for driving both milling heads in the C axis and larger swiveling rotary tables – applications in which they also take on the task of supporting the swivel axis in conjunction with the integral main bearing. In many cases, a second gearbox and reciprocal bracing to compensate for torsional backlash is not required as the gearboxes feature a mechanism that automatically compensates for torsional backlash and wear on an ongoing basis and ensures an extremely low torsional backlash of ≤ 0.1 angular minutes. This extremely small torsional backlash also remains constant throughout the entire operating life of 20,000 hours. With just one gearbox and the integrated main bearing arrangement, an extremely streamlined mechanical structure is achieved with comparatively few components, providing a highly economical drive and bearing solution for swing bridges.
PSC gearboxes are available as mounting kits with a solid or hollow shaft, with or without a helical input stage, and as closed units with or without a right angle pre-stage for motor attachment. Nine sizes ranging from 030 to 500 Nm, with planetary stage transmission ratios between 9 and 20, input stage transmission ratios from 3.4 to 15.7, and outside diameters from 155 to 405 mm, are available as standard.
With the PSC range of precision planetary gearboxes, Schaeffler now also covers drive solutions beneath the direct-drive swivel tables. In addition to demanding, dynamic five-axis simultaneous milling operations, other applications include precise five-sided machining with a highly cost-effective and precision drive that has been subjected to large-scale testing.
Publisher: Schaeffler Technologies AG & Co. KG
Country: Germany
Share Page